Colorful Travel Cradle
Thursday December 7, 2000 - 10:00 PM EST - By James Hromadka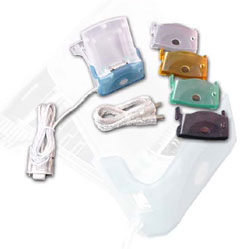 iBIZ Technology has a Folding Travel Cradle for Visor that comes with the cables necessary to work with both serial and USB ports, as well as five faceplates so you can match the cradle to the color of your Visor. Here's a list of the features:
Includes USB & Serial Cables

Folds for travel - lightweight

Includes 5 interchangable, color faceplates

HotSync™ button & stylus holder

Adjustable from 45º to 60º angle

USB & Serial Connections

Cable length: 120cm/44inches

Price is $29.99 and the cradle is now available at CompUSA.

Thanks to Scott Olendorf for the news item. Discuss the Travel Cradle here.







Update: Auction Update / VisorAdventure 2
Thu Oct 11 - 12:05 AM EST

InnoGear PowerCradle (updated)
Tue Oct 9 - 10:51 PM EST

iambic Office suite
Thu Oct 4 - 1:12 AM EST

Prism dropped to $299
Tue Oct 2 - 6:19 PM EST

New Portable Keyboard
Tue Oct 2 - 4:46 PM EST

Body Massager Module (updated)
Tue Oct 2 - 4:38 PM EST

Module Madness
Tue Oct 2 - 4:34 PM EST

New version of FlashAdapter software
Mon Oct 1 - 11:02 PM EST

Get Documents To Go with Visor purchase
Mon Oct 1 - 10:42 PM EST

SnapNType initial impressions
Fri Sep 28 - 10:11 PM EST

What's this? A new poll?!
Fri Sep 28 - 9:57 PM EST

Palm Desktop for Mac OS X by "the end of the year"
Thu Sep 27 - 2:36 PM EST

Going Corporate: Handspring partners with Aether
Wed Sep 26 - 6:19 PM EST

SnapNType Mini-Keyboard Available
Mon Sep 24 - 5:19 PM EST

Blazer 2.0 Beta
Mon Sep 24 - 4:42 PM EST