The Visor is announced
The Visor is announced - shipping in October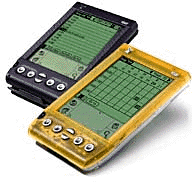 The highly anticipated Handspring PDA is finally here - the company introduced the Visor product family earlier today. Visor will start shipping in October.

Founded by the original creators of the Palm computer, Dubinsky and Jeff Hawkins, Handspring is expected to sell a PalmOS based computer that is cheaper, faster, and more expandable than other PalmOS models currently shipping.

Visor has a unique feature you won't find on any current Palm computer yet modularity. Springboard plug-n-play hardware add-ons can expand Visors functionalities almost endlessly. 

Extra memory, backup units, games, modems, mp3 players, pagers, and cell-phones are just some of the Springboards that will be available. 

Only one module can be used at a time, since it is fitted into the Springboard slot at the top of the Visor. 

The Visor will come in several models, starting at $149 (without cradle) up to $249 for a Visor Deluxe (bundled with USB cradle, multiple color case, leather case).

All Visor models have a backlight and a microphone built in. It measures 4.8" x 3.0" x 0.7" .

Currently, the least expensive Palm III computer goes for around  $160.