WIPClip Preview
WEBClip Preview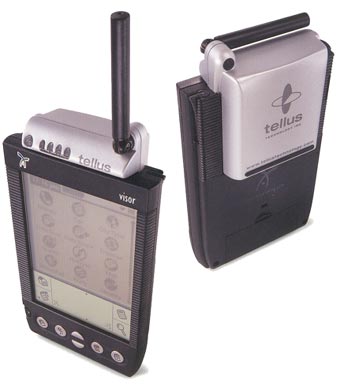 Later this year Visor owners will be able to get wireless access from a plethora of solutions, and even more are on the way. Introduced at Global Xchange, Tellus Technologies' WIPClip is the smallest CDPD module announced to date.

"Our primary design goal for the WIPClip was to create a module that would provide for the best experience both in form-factor and in function for Visor users," said Dan Rubin, director of personal mobility products at Tellus Technology. "Thus, we designed a product from scratch optimized specifically for the Springboard expansion slot that would take advantage of its benefits."

The low profile, lightweight design of the WIPClip allows it to fit comfortable into a shirt or jacket pocket, adding very little to the size and weight of the Visor itself.

Tellus expects to begin shipping the WIPClip bundled with a yet unannounced service provider early next year, for an estimated price of under $300.

"Tellus has done an amazing job in the design and implementation of its WIPClip CDPD wireless modem for the Handspring Visor," said Ed Colligan, senior vice president of sales and marketing for Handspring. "As wireless connectivity becomes more and more important for mobile professionals, the plug and play functionality, flexible power management and open-faced design of the Tellus module will appeal to a number of Visor users."

Key Features
Convenient
Adding only 11 mm thickness, 10.5 mm in length, and 3.2 oz in weight to the Visor, the WIPClip delivers heavyweight functionality in a featherweight package. The standard WIPClip is offered with 2MB, and can be special ordered with 4MB, allowing you to add custom applications. Rechargeing the WIPClip battery is easy through the same Hot-Sync/recharging cradle and charging cable that will be available for the recently announced Handspring VisorPhone. The WIPClip will ship with a charging cable.

Easy to Use
The WIPClip is purely a plug and play module, requiring no driver installation or software customization. Simply snap the WIPClip onto your Visor, and it automatically loads and runs all the software you need to get started.

Economical
With multiple CDPD carriers offering both unlimited and metered service plans, infrequent and heavy CDPD users alike will be able to find a highly affordable, flexible solution to meet their wireless communications needs.

Secure
The CDPD network takes advantage of 128-but encryption, among the strongest data security available today, to ensure the safety and security of your valuable data over the air. For enterprise users, Tellus offers custom back-end software solutions for added security and efficiency.

Dependable
The highly integrated architecture of the WIPClip, coupled with the industry leading Palm Operating system, provides a solid hardware and software problem. Moreover, the WIPClip operates on IP-based wireless networks, giving you connections that you count on. And with coverage in over 3000 cities throughout the U.S., you will always be in touch.

Fast
With a data transfer rate of up to 19.2 Kbps, the WIPClip uses the fasted nationally deployed wireless packet data network available today.
What does the future hold for Tellus technology? 

"Right now we have the smallest CDPD module available. Can we get smaller? Stay tuned," said Rubin.






Update: Auction Update / VisorAdventure 2
Thu Oct 11 - 12:05 AM EST

InnoGear PowerCradle (updated)
Tue Oct 9 - 10:51 PM EST

iambic Office suite
Thu Oct 4 - 1:12 AM EST

Prism dropped to $299
Tue Oct 2 - 6:19 PM EST

New Portable Keyboard
Tue Oct 2 - 4:46 PM EST





VisorCentral Awards 2001 - Day 11
Mon Oct 8 - 8:29 PM EST

Mr. Hromadka goes to Redmond
Mon Sep 10 - 4:39 AM EST

WordSmith 2.0 Preview
Tue Jul 10 - 9:06 PM EST

Open Desktop
Sat Jul 7 - 11:56 PM EST

VisorVision Explained
Mon Jul 2 - 12:10 AM EST

PC Expo Video Streams
Fri Jun 29 - 5:18 PM EST