AirPrime SB1000 Preview
Preview: AirPrime SB1000 CDMA Wireless Module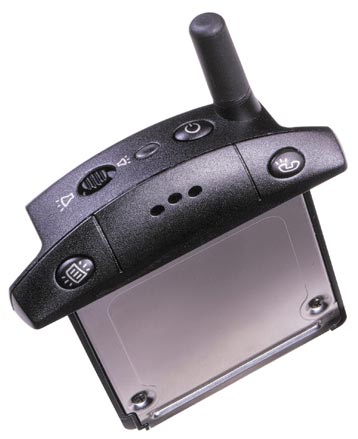 Many readers expressed disappointment after learning that Handspring's VisorPhone only works on the GSM system, since the majority of carriers in the U.S use other cell phone technologies. 

Astonishingly, only a week later, AirPrime announced a CDMA compatible version.

The AirPrime unit looks identical to Handspring's VisorPhone and uses the same software. AirPrime is an OEM manufacturer, and will therefore not sell the unit directly to customers. Individual OEMs will sell the SB1000 under their own brand and distribute the product through their own sales channels. 

"This is a major milestone for AirPrime,"said Paul Sethy, AirPrime's CEO and founder. "Our goal is to enable our OEM partners to rapidly and efficiently incorporate CDMA wireless WAN-access technology into their product portfolios. We believe that CDMA-enabled handheld devices, such as the popular Handspring Visor, will be first to meet the expectations of wireless Internet users in terms of coverage, service quality, content, and cost."

The SB1000 will allow OEMs to deliver competitive CDMA voice and data solutions to their customers, provided under AirPrime's license from Qualcomm, Inc. Further, the SB1000 is dual-band (800MHz/1900MHz) capable, providing seamless wireless coverage over existing CDMA IS-95A cellular and PCS networks in North America. 

The product platform can also be configured to support single-band and/or data-only applications. 

AirPrime will be providing SB1000 modules to lead OEM partners for evaluation and application development during Q4 2000. 

"The AirPrime CDMA Wireless Springboard module, which utilizes the same user interface as Handspring's VisorPhone Springboard module, will provide customers an exceptional wireless experience. By leveraging the vast and rapidly expanding CDMA cellular/PCS networks, Visor users will have immediate access to people, information and services across North America," said Ed Colligan, senior vice president of sales and marketing for Handspring, Inc.









Update: Auction Update / VisorAdventure 2
Thu Oct 11 - 12:05 AM EST

InnoGear PowerCradle (updated)
Tue Oct 9 - 10:51 PM EST

iambic Office suite
Thu Oct 4 - 1:12 AM EST

Prism dropped to $299
Tue Oct 2 - 6:19 PM EST

New Portable Keyboard
Tue Oct 2 - 4:46 PM EST





VisorCentral Awards 2001 - Day 11
Mon Oct 8 - 8:29 PM EST

Mr. Hromadka goes to Redmond
Mon Sep 10 - 4:39 AM EST

WordSmith 2.0 Preview
Tue Jul 10 - 9:06 PM EST

Open Desktop
Sat Jul 7 - 11:56 PM EST

VisorVision Explained
Mon Jul 2 - 12:10 AM EST

PC Expo Video Streams
Fri Jun 29 - 5:18 PM EST