A Developer's Perspective
A Developer's Perspective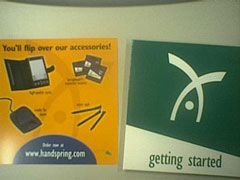 As most of us anxiously await getting a Visor from Handspring there are those lucky few who have managed to already get one. Currently they fall into one of two categories, either they received a demo unit for review and/or development purposes or they were one of the lucky winners at Internet World 99.

YAMADA Tatshushi, developer of a Japanese OS type add-on for the PalmOS, received his Visor Deluxe for software compatibility testing. YAMADA gladly answered a few questions for VisorCentral and had some nice images of the Visor and accessories up close to share with us.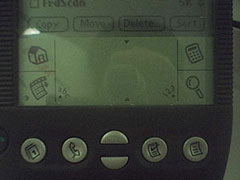 How and when did you get a Visor Deluxe?
I received one from HandSpring around September 20th as a software compatibility testing unit. I think they are expecting me to show it to Japanese mass media. It is going to be in 4 or 5 magazines within a month.
What do you like about the Visor Deluxe?
USB HotSync. Itís really fast. My main machine is a notebook with no serial port so the USB cradle is very convenient and speedy.
SpringBoard. I only have the 8M Flash module but itís really cool. I can put it on and take it off at any time, even when applications on the module are running.
The Buttons. The tacticle feel of the buttons is very comfortable, though rather noisy.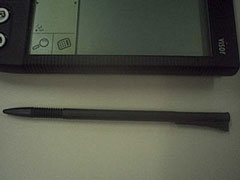 What do you dislike about the Visor?
Stylus. I must put a paper clip in the battery compartment to reset the Visor.
LCD. I love the PalmVís very clear and bright LCD. Visorís LCD is not bad, but PalmV ís LCD is much better.
How would you compare the Visor to the Palm III series?
Thereís no reason to use a Palm III. The Visor is better in almost any field.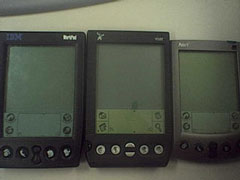 How would you compare the Visor to the Palm V?
I love my PalmV (with 8mb RAM) and it is still my main machine. The PalmV is light and thin and itís LCD is great. I really love it. But when I go on trips I would take a Visor with modem and backup modules.