QuickLink Pen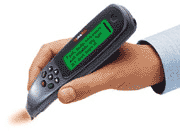 The QuickLink Pen is a small handheld OCR scanner. The non-backlit LCD measures 2.4" x .8" with a 122 X 32 pixel resolution. In the tip is a 128 pixel linear array image sensor with 400 DPI resolution. The device operates on two AAA batteries (alkalines are included in the package) and comes with a 9-pin serial cable for interfacing to a PC (At this time, only Windows95/98 and NT are supported. Mac support should be available later this year. When ordered direct from WizCom's US office (888-777-0552), a USB-to-Serial adapter may be requested for free (a $39.95 value), allowing the Pen to be connected to a USB port.

The unit ships with a CD-ROM containing the QuickLink Desktop, a program that functions along the line of the Palm Desktop. That is, it allows the Pen to communicate and transfer data to the PC. There are four built-in applications on both the Pen and in the desktop: 

Notes: for free-form scanning of generic lines of text.

Address Book: for scanning specific data into an address book format (first name, last name, address, etc.). The Pen doubles as an electronic address organizer.

Internet Links: for scanning and maintaining a database of internet links that can be transferred to your browser.

Tables: for scanning table-type (i.e. spreadsheet) data.

In addition, the QuickLink Pen has a feature called Scan to PC. This allows the Pen to be used as an input device to your favorite desktop program, like Notepad or Word. Text scanned with the Pen is automatically inserted into the document at the current cursor position.

To synchronize and transfer data between the Pen and the desktop, there is a QuickLink application. This is similar to the HotSync manager that the Visor uses. Data from the Pen is uploaded to the corresponding apps in the QuickLink Desktop.

There is also a PC-Controlled Communications function that allows you to backup and restore the Pen data. It is also used to update the Pen's onboard software and will be used to load third-party applications that become available (WizCom offers an SDK for developers wishing to extend the Pen's functionality).


User Opinions


| | | | |
| --- | --- | --- | --- |
| | 67% | | 33% |
3 votes registered
Product Details
Name: QuickLink Pen
Company: WizCom Technologies Ltd.
Size: 6" x 1-1/2" x 1"
Weight: 3 ounces
Price: $179.00





Update: Auction Update / VisorAdventure 2
Thu Oct 11 - 12:05 AM EST

InnoGear PowerCradle (updated)
Tue Oct 9 - 10:51 PM EST

iambic Office suite
Thu Oct 4 - 1:12 AM EST

Prism dropped to $299
Tue Oct 2 - 6:19 PM EST

New Portable Keyboard
Tue Oct 2 - 4:46 PM EST