QuickLink Pen
Usability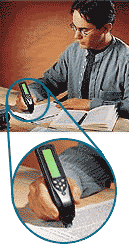 Using the QuickLink Pen is a lot like using a hi-lighter. Holding it in your hand, you drag it across the source text. There are two little rollers on the tip of the Pen that provide for a smooth scan. The Pen can scan left-to-right or right-to-left and can be configured for left-handed use as well. The hardest part of using the Pen is to get the "feel" for dragging it across the page. Too fast or too slow will yield poorer results. Additionally, the position that the Pen is held in also affects scan accuracy. Once you master how to hold and scan with the Pen, the results are amazingly good.

Two other features of the Pen are the Character Bar and the Opticard. The Character Bar allows you to manually input text directly on the Pen's LCD. It can be used to insert or overwrite scanned text (useful for correcting poor scans). The Opticard uses barcode technology to also manually enter text. On the bottom of the Pen's case is the Opticard chart. Using Opticard, you can simply "tap" the special barcodes to input the desired characters. 

WizCom claims that the Pen will read text in a variety of fonts (it cannot read hand-written text) from 6 to 22 points in size. It can also scan most any text color/background combination except the for red-on-white, white-on-red, blue-on-black, and black-on-blue. All this with up to 97% accuracy. My results were consistently high (80% - 90%), but nowhere near the stated percentage. 

The QuickLink Pen can hold up to 1,000 pages of scanned text. According to WizCom, a page is defined as 8-1/2" x 11" using a 12-point font. I do not think anyone will ever fill the Pen memory. While it is great at scanning short passages of just a few lines, you won't be using it to scan in War and Peace or any other lengthy text.



The QuickLink Upgrade v1.52 (available for download at the WizCom web site) enables the IR function of the Pen so that you can beam data (Notes and Addresses) to and from your Visor (or any other IrOBEX-compatible device). The IR functionality works extremely well. The Visor doesn't have to be in the appropriate application to receive the data. You can also send from the Visor to the Pen. In this scenario, you open the Memo or Address record you want to beam, select the corresponding app on the Pen, select Receive on the Pen's Beam menu, and then start the beam from the Visor.


User Opinions


| | | | |
| --- | --- | --- | --- |
| | 67% | | 33% |
3 votes registered
Product Details
Name: QuickLink Pen
Company: WizCom Technologies Ltd.
Size: 6" x 1-1/2" x 1"
Weight: 3 ounces
Price: $179.00





Update: Auction Update / VisorAdventure 2
Thu Oct 11 - 12:05 AM EST

InnoGear PowerCradle (updated)
Tue Oct 9 - 10:51 PM EST

iambic Office suite
Thu Oct 4 - 1:12 AM EST

Prism dropped to $299
Tue Oct 2 - 6:19 PM EST

New Portable Keyboard
Tue Oct 2 - 4:46 PM EST