---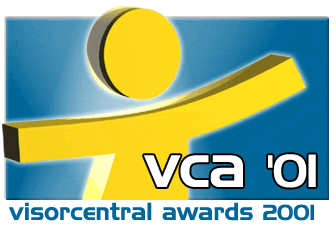 latest articles & reviews

review: Visor Neo
Saturday September 15 - 6:38 PM EST
The Visor Deluxe gets an update. Which color do you choose?

review: Visor Pro
Saturday September 15 - 4:59 PM EST
Take the software features of the Visor Edge, the form factor of the Visor Deluxe, add more memory, and you have the Visor Pro.

review: Beat Plus
Monday August 27 - 11:53 PM EST
GameBoy who? Check out the module that gives the Visor more bangs, pows, kabooms, etc.

review: Parafone
Sunday August 26 - 3:44 PM EST
The Parafone module pairs communication with your information, letting you just tap on a number in your address book to make a call. Or in the same device take notes, while on the phone. It's an idea that's already making its way in the wireless market.

review: Audible Advisor
Sunday August 5 - 11:17 PM EST
So what do we call these audio books that the Advisor can play -- aBooks?


---
around the web

Get Smarter get a Smartercase!
Smartercase
SprintPCS/Airprime SB3000 Module Available
Sprint PCS
San Diego PUG October Meeting
www.sdpug.com
Palm eBook-of-the-Month: "Braving the Flames"
Qvadis
Palm Tipsheet 23.0 / October 2001 Now Online
The Palm Tipsheet
Seiko SmartPad2 Giveaway - Over 45 Prizes!
Handheld Computing Magazine
Palm's millenial struggles
Brighthand
SyncFest San Jose October 27, 2001 - Landmark first-ever Palm OS consumer trade show event!
SyncFest San Jose 2001

---
links -







Update: Auction Update / VisorAdventure 2
Wed Oct 10 - 8:05 PM EST

InnoGear PowerCradle (updated)
Tue Oct 9 - 6:51 PM EST

iambic Office suite
Wed Oct 3 - 9:12 PM EST

Prism dropped to $299
Tue Oct 2 - 2:19 PM EST

New Portable Keyboard
Tue Oct 2 - 12:46 PM EST

Body Massager Module (updated)
Tue Oct 2 - 12:38 PM EST