Dataget Port module
Monday November 20, 2000 - 3:12 PM EST - By James Hromadka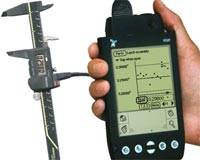 Tescina, Inc. announced today its DataGet BCD cartridge (module)for the Handspring Visor that lets you read gauges. From the press release:
The main benefits of the DataGet BCD cartridge over the existing DataGet ports are faster data collection times and better ergonomics. For example, if you measure 100 parts per day, not having to switch cables while measuring a part saves over one day per month. Connecting the cables to the top of the Visor keeps them out of the way, and gives the user the option of mounting the Visor in a cradle while collecting data.
The DataGet BCD is $499, and Visor bundles will be available. Volume shipments will occur later this year. A spec sheet (PDF) is available here. I bet my Dad would love this.







Update: Auction Update / VisorAdventure 2
Thu Oct 11 - 12:05 AM EST

InnoGear PowerCradle (updated)
Tue Oct 9 - 10:51 PM EST

iambic Office suite
Thu Oct 4 - 1:12 AM EST

Prism dropped to $299
Tue Oct 2 - 6:19 PM EST

New Portable Keyboard
Tue Oct 2 - 4:46 PM EST

Body Massager Module (updated)
Tue Oct 2 - 4:38 PM EST

Module Madness
Tue Oct 2 - 4:34 PM EST

New version of FlashAdapter software
Mon Oct 1 - 11:02 PM EST

Get Documents To Go with Visor purchase
Mon Oct 1 - 10:42 PM EST

SnapNType initial impressions
Fri Sep 28 - 10:11 PM EST

What's this? A new poll?!
Fri Sep 28 - 9:57 PM EST

Palm Desktop for Mac OS X by "the end of the year"
Thu Sep 27 - 2:36 PM EST

Going Corporate: Handspring partners with Aether
Wed Sep 26 - 6:19 PM EST

SnapNType Mini-Keyboard Available
Mon Sep 24 - 5:19 PM EST

Blazer 2.0 Beta
Mon Sep 24 - 4:42 PM EST