A browser for the real world
Experience our surroundings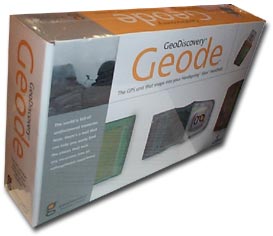 Combining Internet technology, handheld computing, and global positioning systems, GeoDiscovery is planning to change the way we experience our surroundings.

"We are making a browser for the real world," said Doug Snapp, CEO and founder of GeoDiscovery. Brian Sevy, VP of marketing added that with GeoDiscovery's solutions, "you can always know where you are and what surrounds you." 

GeoDiscovery is taking a three-step approach to deliver location-specific information to the end user:

First, there is GeoView Web, an advanced map-based Web interface, which connects users to libraries of useful travel information on the Internet. GeoView Web will be a free online service; however, certain content such as detailed city guides will be sold as downloadable packages. Free content includes maps of major roads, highways and rivers in the US. Map packages for all major cities in the US, and Yellow pages maps will also be available without any additional charge.

"It is quite a bit of data. We have a very comprehensive content strategy, and are working with a variety of partners," said Sevy.

Second, GeoView Mobile, a free Palm OS application, allows users to view the downloadable information on their PDA. 

And third, maybe the most interesting aspect of the GeoDiscovery for Visor owners is the Geode, a portable GPS device that puts the information in the context of the current location. 

"We have all these content packages that you can download on any PalmOS device, and if you have a Visor with the Geode it all comes alive," stated Sevy.






Update: Auction Update / VisorAdventure 2
Thu Oct 11 - 12:05 AM EST

InnoGear PowerCradle (updated)
Tue Oct 9 - 10:51 PM EST

iambic Office suite
Thu Oct 4 - 1:12 AM EST

Prism dropped to $299
Tue Oct 2 - 6:19 PM EST

New Portable Keyboard
Tue Oct 2 - 4:46 PM EST





VisorCentral Awards 2001 - Day 11
Mon Oct 8 - 8:29 PM EST

Mr. Hromadka goes to Redmond
Mon Sep 10 - 4:39 AM EST

WordSmith 2.0 Preview
Tue Jul 10 - 9:06 PM EST

Open Desktop
Sat Jul 7 - 11:56 PM EST

VisorVision Explained
Mon Jul 2 - 12:10 AM EST

PC Expo Video Streams
Fri Jun 29 - 5:18 PM EST