GrinderGear Basecamp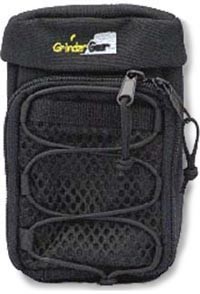 When I first got my Visor I just carried it around in my front pocket with the bundled hard cover attached. This arrangement worked great; however, as time passed I ended up needing to carry more PDA accessories than my poor pants could handle. So I started to look around all of the usual places for a nice case that could alleviate the strain on my belt.

While searching for a PDA case there were a number of things I decided to look for, and they are all listed below:

Swivel-type belt clip - Because of the size of some of these modules and sleeves, the practicality of putting such a device in your pocket is nonexistent. A swivel clip seemed at the time to be a great solution to this problem. As it turns out, swivel clips leave a little to be desired, however it is a lot better than putting in my pocket.

Compatible with a wide rage of PDA sizes - Since I own both a Visor and a Compaq iPAQ, I wanted a case that wasnít PDA specific so it could be used with either of my PDAs.

Sturdy - As a student,† I use my PDA (what ever one it happens to be) in school for a wide rage of tasks, Tthis means I need to have my PDA be accessible at all times, and while the belt clip solves this problem, it creates another: Something that exposed is bound to get bumped into, hit, etc..

Affordable -† If money werenít a problem, then Iíd have a different Vaja Case for every different configuration of my PDA. But I donít think one could in good conscience justify spending that kind of money on cases. I wanted something that would give me a good level of protection for a reasonable price.

This brought me to the GrinderGear Basecamp. Priced at $39.9, it is somewhat more affordable than itís competition, and it packs a nice punch.


User Opinions


| | | | |
| --- | --- | --- | --- |
| | 50% | | 50% |
6 votes registered
Product Details
Name: GrinderGear Basecamp
Company: GrinderGear

Price: $39.95





Update: Auction Update / VisorAdventure 2
Thu Oct 11 - 12:05 AM EST

InnoGear PowerCradle (updated)
Tue Oct 9 - 10:51 PM EST

iambic Office suite
Thu Oct 4 - 1:12 AM EST

Prism dropped to $299
Tue Oct 2 - 6:19 PM EST

New Portable Keyboard
Tue Oct 2 - 4:46 PM EST