NxCable-Dual HotSync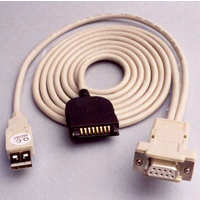 The NxCable-HotSync provides both the USB and the serial connections in a single cable.  Personally, I sync my Visor Prism with three computers and two operating systems.  I have a few cradles, but when I travel to other offices, I never know where I'm going to be able to HotSync.  I purchased a USB HotSync Travel cable a while back, but then the USB on my Win2K Laptop stopped working.  The NxCable-HotSync offered me enough flexibility that I could simply switch over to the serial cable.   The USB connector also works with Macintoshes, although the Serial connector doesn't work with Macintoshes. 

Usability

It's a fairly well-made cable.  The USB connector and the connector that hooks to the Visor are very sturdy and will standup to rough treatment.  My only complaint with the cable is that the Serial  connector is made of two plastic halves that snap together.  This in itself isn't a bad thing, but because the connector isn't made of one molded piece of plastic or hard rubber, it feels a little light and could possibly break (if anything were to break). 

Conclusion

This is a no-brainer.  If you are a Visor Power user like me, you never know where you are going to HotSync.  This cable offers the most flexibility for HotSyncing on the go.  I suppose the only other thing I could ask for (as I am a Prism user) would be a place to plug in my Prism AC Adapter so I could charge and HotSync at the same time without a cradle.  If you're thinking of being buying a second cradle, and aren't sure if you want the Serial or USB version, consider a NxCable-Hotsync first.



Criteria

Rating

Design
4
Usefulness
5
Usability
5
Cost/Benefit
4
Overall
(not an average)

Pros
- The obvious: Gives you the flexibility to choose how to HotSync
- Very long: 4-plus feet

Cons
- A little spendy at $29.00

User Opinions


| | | | |
| --- | --- | --- | --- |
| | 50% | | 50% |
4 votes registered
Product Details
Name: NxCable-Dual HotSync
Company: NXiST

Price: $29.00





Update: Auction Update / VisorAdventure 2
Thu Oct 11 - 12:05 AM EST

InnoGear PowerCradle (updated)
Tue Oct 9 - 10:51 PM EST

iambic Office suite
Thu Oct 4 - 1:12 AM EST

Prism dropped to $299
Tue Oct 2 - 6:19 PM EST

New Portable Keyboard
Tue Oct 2 - 4:46 PM EST