Slim Leather Case

I really hate all the things that I have to carry around.  Each morning, I go through a silent ritual where I make sure I have everything -- "keys, pager, wallet, Visor."  Sometimes I wish I didn't have to carry a wallet.  I got a taxi wallet for Christmas so I only carry the essentials with me.  Now with the Handspring Slim Leather case, I can sometimes remove the need for a wallet period.

The Slim Leather case is black and uses a velcro strap to open and close the case.  The Handspring logo is embossed into the lower right-hand corner on the front of the case.  Inside the case, there is room for three credit cards and a slot for ticket stubs or a little cash.

The Visor is held in place by what is essentially the hard cover sewn into the right side of the case.  The Visor snaps in and is held very tightly by this "reverse cover."  Almost all of the Handspring cases use this technique to hold the Visor in place.  It is a really innovative way to hold the Visor in.  I hate cases that use velcro to hold a device inside, and now with the springboard slot velcro is even more undesirable.

Usability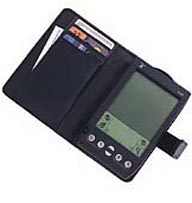 The Slim Leather case does a decent job of covering the front and back of the Visor.  The top, right, and bottom sides of the Visor, however, are exposed.  I think the Visor would be ok in a small drop, but falling on a corner could be a problem.
One thing you have to get used to at first is the leather.  Leather expands as you use it, and at first credit cards are a tight squeeze when inserting and removing them from the case, but this should get easier as the leather gets worn in.
Aesthetically speaking, this is a very nice looking case.  Graphite Visors will look especially great in this case because it is entirely black.  This case is in Handspring's Value Cases line, but I still wish it would have used a snap closure instead of velcro, because the noise from opening the case could be distracting in a meeting.


User Opinions


| | | | |
| --- | --- | --- | --- |
| | 76% | | 24% |
38 votes registered
Product Details
Name: Slim Leather Case
Company: Handspring
Size: 5"x3¼"x???
Weight: 2.3 oz.
Ir in Case: No
HotSync in Case: No
Case Type: Leather
Held by: Snap-in
Price: $24.95





Update: Auction Update / VisorAdventure 2
Thu Oct 11 - 12:05 AM EST

InnoGear PowerCradle (updated)
Tue Oct 9 - 10:51 PM EST

iambic Office suite
Thu Oct 4 - 1:12 AM EST

Prism dropped to $299
Tue Oct 2 - 6:19 PM EST

New Portable Keyboard
Tue Oct 2 - 4:46 PM EST