InnoGear PowerCradle (updated)
Tuesday October 9, 2001 - 10:51 PM EST - By James Hromadka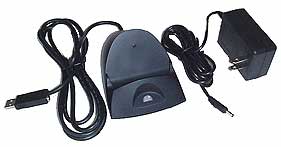 InnoGear has released a special PowerCradle that has a built-in charger, allowing users to charge Springboard modules with "built-in rechargers and rechargeable batteries," as well as the Visor itself. From the press release:
InnoGear today launched PowerCradle™, its new Charging/Power cradle for the Handspring Visor. With PowerCradle, users have the ability to enjoy Springboard ™ modules such as their MiniJam™ or Visor Phone™ without the worry of using up Visor battery life. PowerCradle users can also recharge batteries in the Handspring VisorPhone and several other rechargeable Springboard modules.

PowerCradle was developed with the MiniJam in mind to allow users to enjoy unlimited time listening to music without the worries of Visor battery drainage. Owners of Springboard modules such as the VisorPhone, Xircom Modem, OmniSky Modem, AirPrime Modem, and Novatel Modem and more, can also enjoy the benefits of the PowerCradle recharging or powering capabilities.

"We felt that the PowerCradle would be of great benefit to MiniJam owners", said Kendrick Jan, CEO of InnoGear. "The ability to listen to continuous MP3 Music through their MiniJam without worries of battery consumption, allows users to enjoy unlimited use of our product and would eliminate the concern of running out of battery power".
This is very handy (no pun intended) for USB users that do not have a Prism or Edge but want to keep their modules charged. The PowerCradle is now available for $39.95.

Related stories: InnoGear PowerCradle (updated), Module Madness, Free accessory with a MiniJam , InnoGear in Canadian retail stores, MiniJam at a mini-price, Speedloader and new case from InnoGear, "The Day the SixPak Died", 64 MB MiniJam for $199 at Amazon.com, InnoDrive/DP, InnoPak/2V 1.3 update, SpeedLoader impressions, MiniJam Update released, MiniJam in color soon, Some MiniJam accessories available, MiniJam fix for VPL/VPR, SixPak in Q1 2001, Updated: Was color-blind now I see, Win a MiniJam!, SeMP3mber, SoundsGood review online, The MiniJam rocks!, Corporate MP3s for the MiniJam, SixPak in October, Pre-order MiniJam, Post-Expo poll results, Fullerton Interview, Pre-Expo Poll results, PC Expo Roundup, Update 3: PC Expo day 2, Update #3: PC Expo day 1, SoundOff: missing modules, MiniJam update, New owner for InfoMitt, VC Store: Innopak/2V & RP3000 in stock, Inno-News, Innogear releases InnoPak/2V, Module poll results, YARA, What the Palm IPO means to Handspring & co., To show how much we love you..., Innogear FAQ, Innogear Update, ZDTV on Innogear & Widcomm, Innogear modules will work out of the Visor, MP3 Players - Rio X64 & MiniJam, List of accessories growing..., SpeedLoader, Tactilis Flip-Clip and Cover, MiniJam, InnoPak/2V, Viva Las Vegas!, InnoGear Comdex Interview, Comdex 2000, MiniJam vs. SoundsGood, MiniJam's Mega-accessories, VisorCentral Awards 2000, Modules Within Sight, James at HAL-PC, Looking back at PC Expo, Bob Fullerton Q&A, Springing into action, Handspring's IPO Heads for Success, Counting down to PC Expo 2000, InnoPak/2V Preview, Innogear Q&A, SixPak - The Perfect Springboard?, Report from Internet World,




Update: Auction Update / VisorAdventure 2
Thu Oct 11 - 12:05 AM EST

InnoGear PowerCradle (updated)
Tue Oct 9 - 10:51 PM EST

iambic Office suite
Thu Oct 4 - 1:12 AM EST

Prism dropped to $299
Tue Oct 2 - 6:19 PM EST

New Portable Keyboard
Tue Oct 2 - 4:46 PM EST

Body Massager Module (updated)
Tue Oct 2 - 4:38 PM EST

Module Madness
Tue Oct 2 - 4:34 PM EST

New version of FlashAdapter software
Mon Oct 1 - 11:02 PM EST

Get Documents To Go with Visor purchase
Mon Oct 1 - 10:42 PM EST

SnapNType initial impressions
Fri Sep 28 - 10:11 PM EST

What's this? A new poll?!
Fri Sep 28 - 9:57 PM EST

Palm Desktop for Mac OS X by "the end of the year"
Thu Sep 27 - 2:36 PM EST

Going Corporate: Handspring partners with Aether
Wed Sep 26 - 6:19 PM EST

SnapNType Mini-Keyboard Available
Mon Sep 24 - 5:19 PM EST

Blazer 2.0 Beta
Mon Sep 24 - 4:42 PM EST