InnoDrive/DP
Tuesday January 16, 2001 - 2:18 PM EST - By James Hromadka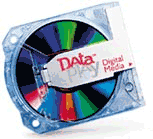 InnoGear is looking to become the one-stop storage solution for the Visor. Their InnoDrive line of products will bring significant storage space to those cramped 2MB and 8MB Visors we use.

During Comdex 2000 I had an interview with InnoGear where we discussed the InnoDrive/MS, which will use Sony's MemoryStick technology. InnoGear is also working on an InnoDrive/DP; this will use a new memory format called DataPlay discs. These discs are double-sided optical storage media that can hold 500 MB and supports secure digital. DataPlay discs are multi-session, write-once and will retail for less than $10 per disc. All this in a disc that roughly the size of a quarter!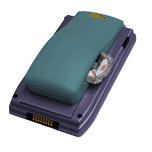 What I saw that was interesting about DataPlay is the ContentKey™ feature. This will allow consumers to activate pre-recorded content on a DataPlay disc without downloading anything. Record companies could mail out music singles that already have the entire album on them. You go online and get an activation code that unlocks the remaining songs.

The InnoGear product can play music (roughly eleven hours) and store other types of files. Pricing is unknown, but we'll have more information as we get closer to the InnoDrive/DP's late Q4 release date.

That is going to be one massive article when I compare all of InnoGear's InnoDrive products!






Update: Auction Update / VisorAdventure 2
Thu Oct 11 - 12:05 AM EST

InnoGear PowerCradle (updated)
Tue Oct 9 - 10:51 PM EST

iambic Office suite
Thu Oct 4 - 1:12 AM EST

Prism dropped to $299
Tue Oct 2 - 6:19 PM EST

New Portable Keyboard
Tue Oct 2 - 4:46 PM EST

Body Massager Module (updated)
Tue Oct 2 - 4:38 PM EST

Module Madness
Tue Oct 2 - 4:34 PM EST

New version of FlashAdapter software
Mon Oct 1 - 11:02 PM EST

Get Documents To Go with Visor purchase
Mon Oct 1 - 10:42 PM EST

SnapNType initial impressions
Fri Sep 28 - 10:11 PM EST

What's this? A new poll?!
Fri Sep 28 - 9:57 PM EST

Palm Desktop for Mac OS X by "the end of the year"
Thu Sep 27 - 2:36 PM EST

Going Corporate: Handspring partners with Aether
Wed Sep 26 - 6:19 PM EST

SnapNType Mini-Keyboard Available
Mon Sep 24 - 5:19 PM EST

Blazer 2.0 Beta
Mon Sep 24 - 4:42 PM EST