Body Massager Module (updated)
Tuesday October 2, 2001 - 4:38 PM EST - By Marcus Adolfsson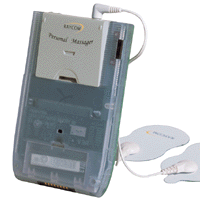 Raynet Technologies today introduced the world's first body massager Springboard module for the Visor - the Raycom Personal Massager.

By snapping the massaging module into the Handspring Springboard expansion slot, people are able to massage their tired muscles while working, reading, watching television or simply relaxing. With the easy 1-2-3 step instructions, the massaging module provides Electronic Muscle Stimulation (EMS) through two gel pads that are attached to selected
areas on the body. It comes with a selection of three basic massage modes consisting of squeezing, chopping, and tapping along with three different programs for the back, shoulders, arms, and legs. Adjustment capabilities are designed to meet people's various builds and desires.

For the beginners, a step-by-step quick guide is available to get started. The on-screen Instruction and Body Guide provides an easy reference. People can observe their massage mode and progress through the color-enabled animated and graphic display screen. Regular users will enjoy the unique personal settings equipped with comprehensive features including frequency, ramp-up modulation, burst, pressure, and duration.

Future free downloads of new massage modes and software upgrades will be available for product enhancement. While providing vigorous massaging, the device uses less than 50mA and provides more than three weeks of battery life under normal usage.

Due to its small size, the Personal Massager is targeted for portable use in the office, at home or during travel. The compact massager can fit unnoticeably into the pocket compared to the bulkier conventional equipment available.

Now available at for $99.00, the Personal Massager's capabilities are equal to the high-end conventional (EMS) devices without the size and cost.

Update: Added link to website and product photo.






Update: Auction Update / VisorAdventure 2
Thu Oct 11 - 12:05 AM EST

InnoGear PowerCradle (updated)
Tue Oct 9 - 10:51 PM EST

iambic Office suite
Thu Oct 4 - 1:12 AM EST

Prism dropped to $299
Tue Oct 2 - 6:19 PM EST

New Portable Keyboard
Tue Oct 2 - 4:46 PM EST

Body Massager Module (updated)
Tue Oct 2 - 4:38 PM EST

Module Madness
Tue Oct 2 - 4:34 PM EST

New version of FlashAdapter software
Mon Oct 1 - 11:02 PM EST

Get Documents To Go with Visor purchase
Mon Oct 1 - 10:42 PM EST

SnapNType initial impressions
Fri Sep 28 - 10:11 PM EST

What's this? A new poll?!
Fri Sep 28 - 9:57 PM EST

Palm Desktop for Mac OS X by "the end of the year"
Thu Sep 27 - 2:36 PM EST

Going Corporate: Handspring partners with Aether
Wed Sep 26 - 6:19 PM EST

SnapNType Mini-Keyboard Available
Mon Sep 24 - 5:19 PM EST

Blazer 2.0 Beta
Mon Sep 24 - 4:42 PM EST