Blazer 2.0 Beta
Monday September 24, 2001 - 4:42 PM EST - By Marcus Adolfsson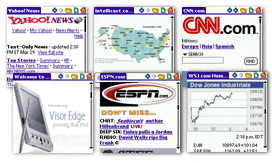 The beta version of Blazer 2.0 is now available from Handspring.com

With this new version, Handspring has updated Blazer 1.1 with a great new user interface (including enhanced bookmarking) and has optimized Blazer for faster performance and better reliability. In addition, Blazer 2.0 now supports additional security features, including HTTP authentication and proxy server login.

Handspring is currently running an open beta test of the Blazer 2.0. In order to participate you'll need to need a Palm OS handheld computer with the ability to establish an Internet connection.

The beta program will run from September 16 to October 15. At the end of the beta period, testers will be able to purchase the full commercial version of Blazer 2.0 or, if you already have a registered copy of Blazer 1.1, upgrade to Blazer 2.0 at no additional charge.






Update: Auction Update / VisorAdventure 2
Thu Oct 11 - 12:05 AM EST

InnoGear PowerCradle (updated)
Tue Oct 9 - 10:51 PM EST

iambic Office suite
Thu Oct 4 - 1:12 AM EST

Prism dropped to $299
Tue Oct 2 - 6:19 PM EST

New Portable Keyboard
Tue Oct 2 - 4:46 PM EST

Body Massager Module (updated)
Tue Oct 2 - 4:38 PM EST

Module Madness
Tue Oct 2 - 4:34 PM EST

New version of FlashAdapter software
Mon Oct 1 - 11:02 PM EST

Get Documents To Go with Visor purchase
Mon Oct 1 - 10:42 PM EST

SnapNType initial impressions
Fri Sep 28 - 10:11 PM EST

What's this? A new poll?!
Fri Sep 28 - 9:57 PM EST

Palm Desktop for Mac OS X by "the end of the year"
Thu Sep 27 - 2:36 PM EST

Going Corporate: Handspring partners with Aether
Wed Sep 26 - 6:19 PM EST

SnapNType Mini-Keyboard Available
Mon Sep 24 - 5:19 PM EST

Blazer 2.0 Beta
Mon Sep 24 - 4:42 PM EST