SnapNType initial impressions
Friday September 28, 2001 - 10:11 PM EST - By James Hromadka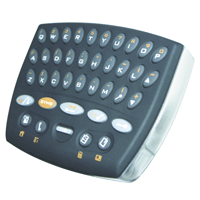 I just got in the new SnapNType keyboard by TT Tech, and it is a very nifty device. VisorPhone users who like SMS will be especially keen on this keyboard.

Text entry is fast, and all of the necessary buttons are available. I especially like the faceboard for smiley entry.

The only thing I would have changed on the keyboard is the labeling of some of the keys. I know what the space keystroke looks like, but I think it would have been better to put the word "space" on the button instead of the stroke.

That minor quibble aside, this is a very useful accessory with a very low price. Don't be surprised if you see the SnapNType in the news this time next year.






Update: Auction Update / VisorAdventure 2
Thu Oct 11 - 12:05 AM EST

InnoGear PowerCradle (updated)
Tue Oct 9 - 10:51 PM EST

iambic Office suite
Thu Oct 4 - 1:12 AM EST

Prism dropped to $299
Tue Oct 2 - 6:19 PM EST

New Portable Keyboard
Tue Oct 2 - 4:46 PM EST

Body Massager Module (updated)
Tue Oct 2 - 4:38 PM EST

Module Madness
Tue Oct 2 - 4:34 PM EST

New version of FlashAdapter software
Mon Oct 1 - 11:02 PM EST

Get Documents To Go with Visor purchase
Mon Oct 1 - 10:42 PM EST

SnapNType initial impressions
Fri Sep 28 - 10:11 PM EST

What's this? A new poll?!
Fri Sep 28 - 9:57 PM EST

Palm Desktop for Mac OS X by "the end of the year"
Thu Sep 27 - 2:36 PM EST

Going Corporate: Handspring partners with Aether
Wed Sep 26 - 6:19 PM EST

SnapNType Mini-Keyboard Available
Mon Sep 24 - 5:19 PM EST

Blazer 2.0 Beta
Mon Sep 24 - 4:42 PM EST