Free accessory with a MiniJam
Friday August 24, 2001 - 1:52 AM EST - By James Hromadka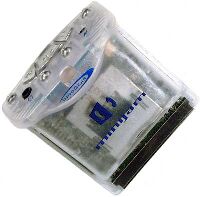 I already used my mini-price joke, so my title this time isn't as clever...

InnoGear now offers with the purchase of its 64 MB MiniJam ($199) one of these accessories for free:
Flat Panel Speakers and Backphones

Speedloader and Backphones

InnoPak2/V and Backphones
You may also purchase the Vaja leather case for the Visor+MJ for $35.00.

I've been meaning to try out those backphones. I really need a good set of headphones for when I travel because my current earphones don't do the job for extended listening on my Visor or my PowerBook.






Update: Auction Update / VisorAdventure 2
Thu Oct 11 - 12:05 AM EST

InnoGear PowerCradle (updated)
Tue Oct 9 - 10:51 PM EST

iambic Office suite
Thu Oct 4 - 1:12 AM EST

Prism dropped to $299
Tue Oct 2 - 6:19 PM EST

New Portable Keyboard
Tue Oct 2 - 4:46 PM EST

Body Massager Module (updated)
Tue Oct 2 - 4:38 PM EST

Module Madness
Tue Oct 2 - 4:34 PM EST

New version of FlashAdapter software
Mon Oct 1 - 11:02 PM EST

Get Documents To Go with Visor purchase
Mon Oct 1 - 10:42 PM EST

SnapNType initial impressions
Fri Sep 28 - 10:11 PM EST

What's this? A new poll?!
Fri Sep 28 - 9:57 PM EST

Palm Desktop for Mac OS X by "the end of the year"
Thu Sep 27 - 2:36 PM EST

Going Corporate: Handspring partners with Aether
Wed Sep 26 - 6:19 PM EST

SnapNType Mini-Keyboard Available
Mon Sep 24 - 5:19 PM EST

Blazer 2.0 Beta
Mon Sep 24 - 4:42 PM EST