InnoPak/2V Preview
InnoPak/2V Preview

After many months of anxiously awaiting some of the Springboard modules from InnoGear, the modules are beginning to trickle out. The first product, the InnoPak/2V, is the first in a series of lowcost modules that include flash memory and at least one other feature.
The InnoPak/2V comprises of 2 MB of flash memory and a vibrating alarm. It includes the File Mover application that is also in the Handspring 8MB Flash module.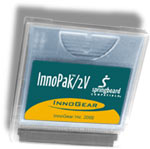 The vibrating alarm prevents your Visor from disturbing others while you are in a meeting, and can be felt when inside a leather case or a coat pocket.
The InnoPak/2V will be available in Graphite and a special Ice version that uses a blue circuit board for $44.95 and is available now from InnoGear's website.
Future InnoPaks will allow "enhanced beaming, Internet connectivity, voice recording, and more." We will be getting the 2V later this week and will have the full review as soon as we can.