WordSmith 2.0 Preview
WordSmith 2.0 Preview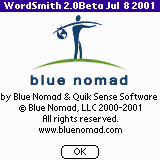 As noted by a recent and ongoing VisorCentral poll, WordSmith 2.0 was one of the most popular PCEXPO items.

WordSmith 2.0 includes many improvements, but the coolest one is FineType. FineType brings a proprietary font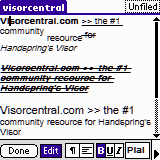 technology, similar to Microsoft's Cleartype to any color palm (Visor Prism, Palm m505, Sony n710c etc...).

This kind of font technology utilizes anti-aliasing – which is making the side pixels lighter color, so they help smooth things out, and Sub pixels. Sub pixels work by only using 1/3 of the pixel. You can get 3 times the horizontal resolution because of this. See this page for more info on how this work.

As an added bonus, WordSmith 2.0 is a free upgrade to all registered users. It will be available by the end of July.

WordSmith 2.0 includes many new features. Some of the most prolific are:
Full Bookmark support: Create, Count, hide, Show, and go to
WordSmith will now preserve most page layout features
Ability to create and view footnotes
A enhanced find and replace
New security settings let you set a different password for each document
Everything that was in WordSmith 1.1, and more.




Update: Auction Update / VisorAdventure 2
Thu Oct 11 - 12:05 AM EST

InnoGear PowerCradle (updated)
Tue Oct 9 - 10:51 PM EST

iambic Office suite
Thu Oct 4 - 1:12 AM EST

Prism dropped to $299
Tue Oct 2 - 6:19 PM EST

New Portable Keyboard
Tue Oct 2 - 4:46 PM EST






VisorCentral Awards 2001 - Day 11
Mon Oct 8 - 8:29 PM EST

Mr. Hromadka goes to Redmond
Mon Sep 10 - 4:39 AM EST

WordSmith 2.0 Preview
Tue Jul 10 - 9:06 PM EST

Open Desktop
Sat Jul 7 - 11:56 PM EST

VisorVision Explained
Mon Jul 2 - 12:10 AM EST

PC Expo Video Streams
Fri Jun 29 - 5:18 PM EST