SpeedLoader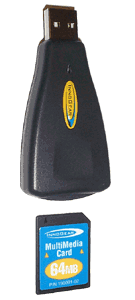 When you transfer songs from your computer to the MiniJam MP3 Springboard module, do you get a cup of coffee, catch up on VisorCentral news, etc.? InnoGear has heard your pleas and released the SpeedLoader, a USB MMC Adapter that more than doubles the speed of transferring songs to your MiniJam.
The Hardware
The SpeedLoader is a USB MMC adapter that can format any MMC card for use with the MiniJam MP3 Springboard module. The SpeedLoader is solid black except for the USB connector and the InnoGear logo. An amber LED indicates activity such as formatting or copying of files, and a 44" USB cable is included for desktop users.
Usability
Installation of the SpeedLoader is fairly straightforward. Install the desktop software then insert the SpeedLoader into any available USB port on your PC. I used a USB hub during this review because of all of the USB devices I have been collecting. Currently the SpeedLoader only works under Windows, but Mac support is coming soon.
The desktop software that comes with the SpeedLoader functions similarly to MJLoader. Add songs by dragging them into the SpeedLoader application from an Explorer window or clicking the Add button and browsing to the file. Click Commit when you're ready to begin copying/deleting songs.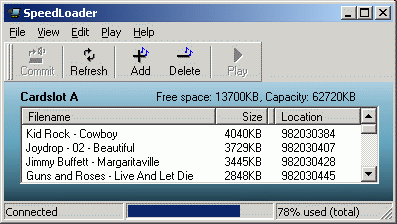 When I reviewed the MiniJam, it took 1:54 to transfer a 4039KB file, for a transfer speed of 2.08MB/min when using MJLoader to transfer songs to the MiniJam. When I transferred that same song using the SpeedLoader, it took 45 seconds to transfer the file using a SanDisk MMC for a transfer speed of 5.26 MB/min. That same song when using Hitachi MMCs took only 28 seconds (8.45 MB/min).
I checked with InnoGear on this and found that when the MiniJam was first introduced, SanDisk was the only 64 MB MMC maker in town. InnoGear changed to Hitachi when they found out that the built-in controller of their MMCs was faster. Here's to progress!
For the sake of comparison, the SoundsGood MP3 Player has a transfer speed of 13.9 MB/min, and the original MiniJam desktop software has a transfer speed of 2.08 MB/min with a SanDisk MMC. So you're looking at anywhere from a 250-400% improvement in speed by using the SpeedLoader, depending on the type of MMCs you use. That's pretty significant, even if it's still not quite as fast as SoundsGood transfer speeds.
So is the SpeedLoader worth the money? That depends on how often you transfer songs. Transferring music in five minutes instead of twenty minutes sounds pretty good to me. The SpeedLoader is also perfect for laptop users that normally HotSync using the Ir port. The only thing missing from the SpeedLoader is Mac support, and you can bet that I'll be pressing InnoGear for it so I can use it with my PowerBook.