Viva Las Vegas!
Intro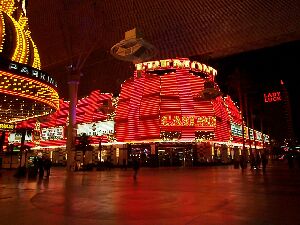 Ah, Las Vegas.  I had never been there before, so i was really looking forward to Comdex 2000. Marcus and i were at the big event from Wednesday afternoon through Saturday - below is an account of some of the behind the scenes things we did and how we used our Visors to get the job done.  Most of it is an account on what Marcus and I did when we weren't at the show, but I've tried to throw in some interesting tidbits to make it worth your while.

After my last trip with the Visor, I wanted to be prepared.  I took the following with me on my trip:
Omnisky wireless module
Dongle cable for Thinmodem 
Pocket Express Entertainment Pack
This time I felt I was prepared.  Omnisky's map showed that they had coverage in Las Vegas so I thought I was set.  Sigh...





Update: Auction Update / VisorAdventure 2
Thu Oct 11 - 12:05 AM EST

InnoGear PowerCradle (updated)
Tue Oct 9 - 10:51 PM EST

iambic Office suite
Thu Oct 4 - 1:12 AM EST

Prism dropped to $299
Tue Oct 2 - 6:19 PM EST

New Portable Keyboard
Tue Oct 2 - 4:46 PM EST






VisorCentral Awards 2001 - Day 11
Mon Oct 8 - 8:29 PM EST

Mr. Hromadka goes to Redmond
Mon Sep 10 - 4:39 AM EST

WordSmith 2.0 Preview
Tue Jul 10 - 9:06 PM EST

Open Desktop
Sat Jul 7 - 11:56 PM EST

VisorVision Explained
Mon Jul 2 - 12:10 AM EST

PC Expo Video Streams
Fri Jun 29 - 5:18 PM EST