InnoGear Comdex Interview
InnoGear Comdex Interview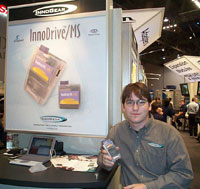 InnoGear has taken a lot of flack (some of it deserved) for the delays of key products. All of the InnoGear people that I spoke to acknowledged their mistakes and expressed a real desire for getting things right. The following is a candid interview I had at Fall Comdex 2000 with Andre Eisenbach, InnoGear's Director of Software Development. 

Hromadka: Ok, Andre, let's get right into it. The thing that most readers want to know is what's happening with the SixPak? What can you tell me about the status of the module right now and any insights as to some of the problems that you've had up to now in its development? How soon can we see it come out -- really?

Eisenbach: Initially with the SixPak we had a lot of design issues. InnoGear was still shaping, and we reshaped the company a lot. We added people, we removed some people, and all together we had some design problems with the SixPak that we weren't able to solve up until early this year. Add to this component issues -- the SixPak is a very complex product. There are a lot of components in there, which are very hard to get at the moment, which has basically caused the biggest delay. 

Right now the status from my point of view is that we have working prototypes -- it's working great. We're now under heavy software development for all of the [SixPak's] functions across the board. Some things we do have from our existing modules; we're also currently writing voice recording; [it] is one of the big points where we're right now in software development. That is in addition to the component issues that still prevail. I think we're getting ready; we're definitely getting ready. 

We don't want to announce any dates anymore. We've made too many mistakes with that in the past, so the next day we announce will be THE date. No excuses anymore, and it will be soon. I'm fairly confident. I've seen it, I've had it in my hands, I love it, and so we'll just have to see.

Hromadka: The most recent date that came out towards the end of October was Q1 2001. Obviously you can't guarantee or make any bets as to that date but are you pretty confident that sometime between January and March 2001 consumers will have the SixPak in hand?

Eisenbach: Leading the software development on the SixPak, I can from my point of view say yes; the software is doing very well and I'm sure we can have it by then. From the hardware experience we have the prototype that's working, and we have no great hardware issues on it. I don't know [for sure] about the components, but I do feel confident because we just recently acquired some of the key components. So I think we're heading towards Q1.






Update: Auction Update / VisorAdventure 2
Thu Oct 11 - 12:05 AM EST

InnoGear PowerCradle (updated)
Tue Oct 9 - 10:51 PM EST

iambic Office suite
Thu Oct 4 - 1:12 AM EST

Prism dropped to $299
Tue Oct 2 - 6:19 PM EST

New Portable Keyboard
Tue Oct 2 - 4:46 PM EST






VisorCentral Awards 2001 - Day 11
Mon Oct 8 - 8:29 PM EST

Mr. Hromadka goes to Redmond
Mon Sep 10 - 4:39 AM EST

WordSmith 2.0 Preview
Tue Jul 10 - 9:06 PM EST

Open Desktop
Sat Jul 7 - 11:56 PM EST

VisorVision Explained
Mon Jul 2 - 12:10 AM EST

PC Expo Video Streams
Fri Jun 29 - 5:18 PM EST