Thinmodem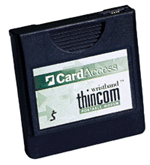 Are you looking for a modem that can be upgraded?  Do you dislike the bulky-ness of the Handspring Modem?  Then check out the Wristband Thincom by Card Access, a standard size Springboard module that sets the standard for future Springboard modules.
Physical Specifications
The name "Thincom" should give you a good hint as to the Springboard module's size.  This 33.6K modem, when not in use, is a standard-size module that stays out of the way.  When you're ready to use the Thincom, plug in one end of the 6' dongle cable into the module and the other end into an analog RJ-11 jack.  The Thincom has special power-saving features that draw less than 50mA when connected -- half the amount that Springboard modules have available to them.  The Thincom, which is only available in graphite, has a light green label that doesn't detract from the look of the Visor.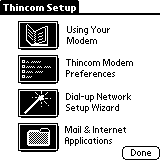 Upon insertion, the Thincom chirps and sounds like you just inserted a PC Card into your Visor -- however, you can disable this in Thincom Setup.  And, through that insertion, you have just setup the Thincom -- it has the most full-featured setup of any Springboard module to date.  Everything from how to connect the modem to quick access to your ISP settings is in the Thincom Setup.  You can also specify speaker volume and whether to use the Status Screen or not.  Every Springboard module should have a setup application as good as the Thincom.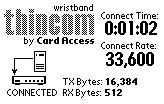 The Status Screen is one of the most innovative features I've seen in a Springboard module.  Tap in the lower right-hand corner of the Find "square" (see screen).  This brings up a popup window that displays how long you've been connected, bytes transfered and received, and your connection speed.  This is reminiscent of double-clicking on the Dial-Up Networking icon when connected in Windows 95, and is a very welcome feature that all modems should have.


User Opinions


| | | | |
| --- | --- | --- | --- |
| | 76% | | 24% |
34 votes registered
Product Details
Name: Thinmodem
Company: Card Access
Size: 2 1/8" x 2¼" x 11/32"
Weight:  0.5 oz. (2.0 oz. w/ cable)
Memory: 18K on Visor when inserted
Hard Cover Compatible: Yes
Price: $119.95





Update: Auction Update / VisorAdventure 2
Thu Oct 11 - 12:05 AM EST

InnoGear PowerCradle (updated)
Tue Oct 9 - 10:51 PM EST

iambic Office suite
Thu Oct 4 - 1:12 AM EST

Prism dropped to $299
Tue Oct 2 - 6:19 PM EST

New Portable Keyboard
Tue Oct 2 - 4:46 PM EST