Audible Advisor
AAPlayer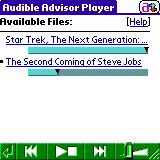 Now that the Audible content is on the Visor, let's take a look at Audible Advisor Player (AAPlayer), which is where all the action is. When AAPlayer is first run, a list of available titles is shown. This screen also indicates if you have the full title or only part of a title available. There is a "Help" link here that is essentially a manual for using AAPlayer.
There is all kinds of information available, and this is one of the best built-in manuals I have seen. I think the Help screen should have also been available from the menu so the user won't have to remember which screen to go to for help.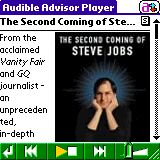 Tap one of the tracks to bring up the title's screen. Here you will find a description and picture (if available) of the book as well as playback controls on the bottom of the screen.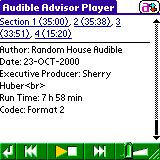 Tap the [s] box next to the title to bring up the sections list. Each title is broken up to sections (tracks) that let the listener jump to a specific point in a title. Some titles have more tracks than others.
Let's look at the mini-controls. The "return" button does just that, taking you back to the Available Titles screen. There are buttons for last section, Play/Pause, next section, a volume control, and a resize icon (which ironically will look familiar to Mac users). The Play button will flash during playback. Tap the resize icon to bring up full-screen controls. Here you will find the same controls, as well as a timer and rewind & fast-forward buttons. Note that although these screens have what looks like a battery indicator, it does not reflect the battery level of the Visor. At the top right-hand corner is a button that lets you quickly switch between AAPlayer and AASync.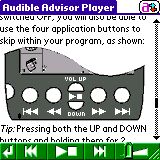 I really like how AAPlayer uses the Visor's buttons during playback. Datebook is last section, Phonebook is rewind, ToDo is fast-forward, and Memopad is next section. The up/down buttons adjust the volume when pressed individually or act as Play/Pause when both are pressed at the same time. These buttons can also be used even when the Visor's screen is off (you can adjust that option).
The Advisor is fully functional while the Visor's screen is off, saving battery power. You can also run other applications while listening to a recording. While in other applications, tap the bottom right-hand corner of the Visor's screen to bring up a Pop-Up screen with all the major controls. This is an innovation that is also in the Thinmodem and is one of my favorite features of Card Access products.