Visor Pen Stylus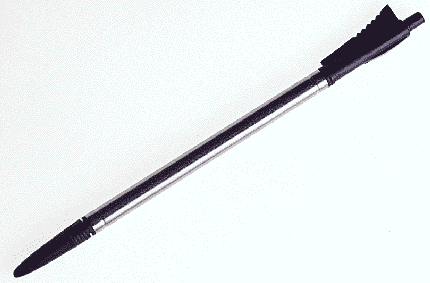 Some people want it all.† They want to be able to have a better stylus than the stock stylus that comes with the Handspring Visor, fit in the Visor silo, and be a pen as well.† For those of you who want it all, the patent-pending Handspring Visor Pen Stylus could be the stylus for you.
The Pen stylus looks very similar to the Visor Stylus 5-pack.† They are roughly the same size and weight, with the Pen stylus being slightly longer.† The major difference, of course, is that the tip of the Pen stylus detaches to reveal a black ink pen.† The tip can be placed on the top of the stylus to prevent losing it, and the top of the† stylus unscrews to reveal a reset pin.† If you look closely enough, you will see three pictures of a stick man doing a handspring engraved into the top of the stylus†
† The Pen stylus fits perfectly in the Visor and wonít roll off a table if you set it down.
Usability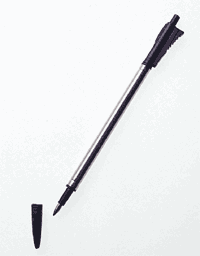 The Pen stylus is very nice to use.† Writing with the Pen stylus is easier to do than with the stock stylus, making handwriting recognition improve slightly.† I like the fact that the tip goes on top to keep it out of the way when you use the pen.† The tip does not have the smoothness change like the Visor Stylus 5-pack does, and is a couple millimeters longer.† Of the two, I personally prefer the Pen stylus because of its tip and the ability to write in ink.† Iím still torn as to whether I like the Pen stylus or the PDA Panache custom stylus more -- they are both great styli.
The Pen stylus uses a standard ball-point ink pen that is about average in quality.† I wonít be writing my memoirs with this pen, but I will use it for jotting down a quick note.† It does not look like the ink can be replaced though, which could be a problem for people that frequently use the pen.
The one caveat is that the Pen stylus is a little light.† The Pen stylus weighs 0.3 oz, while the stock stylus weighs only 0.1 oz.† The light weight could be a problem for users that do a great deal of writing on the Visor or use the pen extensively.† If you are going to need to write in ink and use a stylus for extended periods of time, the Pentopia 2+1 stylus may be better for you.