RhinoPak 3000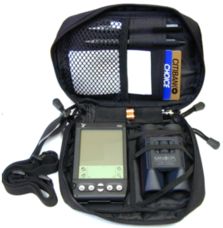 If the RhinoPak 2000 is the "Sport Utility" case for the Handspring Visor, than the RhinoSkin RhinoPak 3000 (RP3000) would be the "Excursion" model.† The RP3000 can hold your Visor, its accessories, and then some.
The RP3000 is similar in design to the RP2000.† The front has a strap that you can insert pens into and a zippered mesh pocket.† The back has a zippered pocket, some straps, and some belt loops.† Inside the RP3000, there are places for your Visor, batteries, and several springboards of any size.† Just like the RP2000, the zippers on the RP3000 are easy to get to because of the extensions on them.
Usability
If Jerry Seinfeld would have been carrying a Visor in that episode instead of makeup, this case would be what he termed "European."† There is a strap that allows the RP3000 to be carried like a briefcase, and there is also a longer detachable strap that can go over your shoulder, allowing the case to be carried like a purse or gym bag.† As I mentioned earlier, there is plenty of room for pretty much everything in this case.
Securing the Visor uses the same style straps as the RP2000.† You can place the Visor hard cover under the straps and then place the Visor on top.† If you secure the Visor this way, make sure you donít have anything sharp on the left side of the case that may scratch the screen.† This holds the Visor in fairly securely, although the straps are loose because the RP3000 can hold much more.† You could actually carry two Visors in this case if you so desired.
There is so much room that the case is almost too bulky.† The RP3000 is roughly 9"x6Ĺ"x2", which is pretty big for a case.† You almost have to remove the Visor when you are going to use it because of the size of the case.† I think the best use of this case will be for people who have a keyboard for their Visor or want to carry other things in addition to the Visor.† The Think Outside Stowaway folding keyboard and the Visor should fit inside the RP3000 just fine.† You could also carry a cell phone, camera, disks, socks, or anything else with your Visor in this case.


User Opinions


| | | | |
| --- | --- | --- | --- |
| | 78% | | 22% |
9 votes registered
Product Details
Name: RhinoPak 3000
Company: RhinoSkin
Size: 8"x5.5"x2"
Weight: 4.8 oz.
Ir in Case: Yes
HotSync in Case: No
Case Type: Canvas
Held by: Strap
Price: $49.95





Update: Auction Update / VisorAdventure 2
Thu Oct 11 - 12:05 AM EST

InnoGear PowerCradle (updated)
Tue Oct 9 - 10:51 PM EST

iambic Office suite
Thu Oct 4 - 1:12 AM EST

Prism dropped to $299
Tue Oct 2 - 6:19 PM EST

New Portable Keyboard
Tue Oct 2 - 4:46 PM EST