Grey MicroFiber Case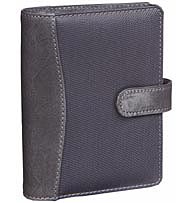 Not everyone that needs a case for their Handspring Visor will be using it in a corporate setting.  Some people will want a case that is a little "trendy" and fun.  If you are the type of person that wants a case that doesn't look like the status quo, check out Handspring's Hip line of Premier cases.  Each case is similar in design, with the only differences being the type of material that it uses and their weight.  The Handspring Grey MicroFiber case is a very stylish case for those that want something different in a case.
The Grey MicroFiber case has grey fabric on the main sections of the front & back of the case.  It uses analine leather as accents and on the inside of the case; a snap is used to open and close the case.  The Handspring logo is embossed on the inside bottom of the case, and there is also inside the case a slot for ticket stubs / cash and a slot for the stylus.  I am not exactly sure why there is a slot for the stylus, as it is still accessible from the Visor silo, but it would be a good place though for the Slimline Twin Point pen for those who need to carry a pen/stylus.
The Visor is held in place by what is essentially the graphite hard cover sewn into the right side of the case.  The Visor snaps in and is held very tightly by this "reverse cover."  Almost all of the Handspring cases use this technique to hold the Visor in place.  I think this is a really innovative way to hold the Visor, as it allows you to take the Visor out of the case quickly for synching but holds it in place without velcro like some other cases do.
Usability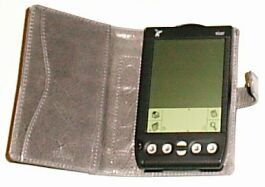 I'll admit it -- the Grey MicroFiber case looks cool.  This case is perfect for office workers that want something different than the traditional black and brown cases that many people have, while not having something that is too outlandish.  This case does a good job of covering the front and back of the Visor, but the top, right, and bottom sides of the Visor are exposed.  I think the Visor would be ok in a small drop, but falling on a corner could be a problem; on the other hand, this isn't the type of case that you buy solely for the purpose of security.
The analine leather is shiny and gives the Grey MicroFiber case a really snazzy look.  Aesthetically speaking, this is a very nice looking case (my wife said "Wow!" when she saw it).  The Grey MicroFiber case would do well in any setting, be it corporate or casual.