ShockSuit SportCase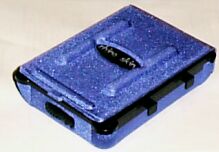 Have you ever wanted the protection of a Ti Slider but couldn't afford the extra cash to for it?  If so, another product from RhinoSkin, the ShockSuit SportCase, could be right up your alley.
The ShockSuit is an industrial-looking case that comes in three different colors: black, bright blue, and gray.  It is specially designed to have padding in the places most likely to hit the ground right before you say "uh-oh."  As part of its special design, each corner has a slightly rounded bulge instead of a hard corner to increase shock absorption.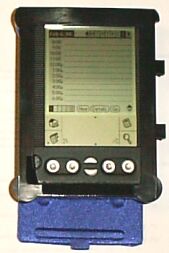 The front of the case has the RhinoSkin logo and two shock absorbers running vertically along the case.  The back has the ring that attaches to the a beltclip and two more shock absorbers.  The right side of the case is where the stylus can be held for quick access.  At the bottom of the ShockSuit is an opening where you can connect a HotSync cable, making this case convenient for travelers.  The Visor slides in from the top and can be easily removed by opening the case and pressing up through the cutout on the bottom.
A flap on the front is attached via velcro and opens up and over the back of the case, allowing one to use his or her Visor without the flap getting in the way.  The flap has a felt lining on the inside to help prevent any accidental scratches when the ShockSuit is closed.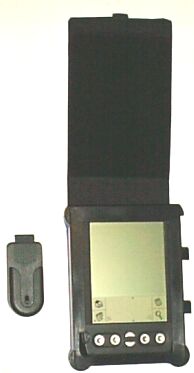 Usability
The ShockSuit has a design that is unlike any other case available for the Visor.  When people see you wearing this, they'll definitely want to know what it is.  This is a good case for those who want great protection but who don't have the money for something like the Ti Slider.  Because of its unique design, students or people who enjoy the outdoors may find the blue version attractive, although those in a business environment may want to go with one of the black or gray models.  This case offers very good protection for the price; if you want the best protection in a beltcase, the ShockSuit is the one to get.
When the flap is folded back, it is very easy to hold the ShockSuit and use the Visor.  The stylus holder will be necessary for those who have the stock stylus, but if you have the PDA Panache custom stylus, you can still keep it in the silo and still get to it easily.  My only wish for this case is that the clips that hold the stylus would have been designed differently.  I'm worried that one good bump against something and the stylus could pop out; however, you can always keep the stock stylus inside the silo and lift the Visor slightly out of the case by pushing from the bottom if you are concerned with accidental bumps.