Sage Green Abbey Nubuck
| | |
| --- | --- |
| Tuesday March 7, 2000 - 3:30 PM EST - By Mike Lee | |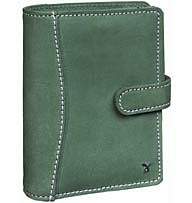 Handspring makes quality cases. Hands down, these are some of the nicest, most useful cases I have seen for any PDA. The Handspring website offers a wealth of choices guaranteed to make any shopper happy. There are many color choices, materials and features available. Soon Handspring will be bringing back their Custom Cases, where you can basically design a case and have your initials embroidered. All this comes from a company who primarily designs and makes computer hardware. Cool.

The Sage Green Abbey Nubuck case is 100% top-grain leather and is made in the United States. Quality is definitely an important issue for Handspring, and it shows here. The case is embroidered with a small, full color Handspring logo in the lower right hand corner and another stamped into the leather on the inside. The case features a side pocket for business cards, phone/credit cards or some cash, as well as an extra stylus holder. Don't count on throwing out your wallet though, too many cards easily cause the case to widen to its maximum capacity.

The case has a snap on the front which is one of its main attractions. Some cases (the Handspring Slim Leather Case, the most inexpensive model) have a velcro a tab closure which is too loud for most settings as it causes a good deal of unwanted attention. The snap falls easily into place and is well designed. The Visor is held in place by an Ice cover, sewn into the back of the case. This case looked sharp with my graphite Visor.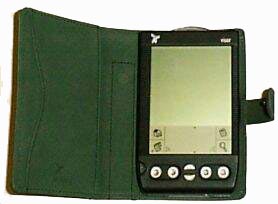 Like a brand new pair of blue jeans, this case will take some breaking in to soften up. The case is a bit bigger and more rigid then the Slim Leather Case that I also own. The Nubuck leather also looks like it will weather some, giving the case a classic look. Overall, only the finest materials were used for this case, and it shows. The case will protect your Visor in most instances, however if the case happens to land on one of its corners, it may cause some damage as the corners are not fully covered. The only thing bad about cases that do not completely cover the unit is that dust from your pockets can get on the Visor. This is a very minor inconvenience and by no means should be a deterrent from buying cases like this.


User Opinions


| | | | |
| --- | --- | --- | --- |
| | 80% | | 20% |
5 votes registered
Product Details
Name: Sage Green Abbey Nubuck
Company: Handspring
Size: 5 1/8"x3¼"x1 1/8"
Weight: 2.6 oz.
Ir in Case: No
HotSync in Case: No
Case Type: Fabric/Leather
Held by: Snap-in
Price: $39.95





Update: Auction Update / VisorAdventure 2
Thu Oct 11 - 12:05 AM EST

InnoGear PowerCradle (updated)
Tue Oct 9 - 10:51 PM EST

iambic Office suite
Thu Oct 4 - 1:12 AM EST

Prism dropped to $299
Tue Oct 2 - 6:19 PM EST

New Portable Keyboard
Tue Oct 2 - 4:46 PM EST