Handspring Modem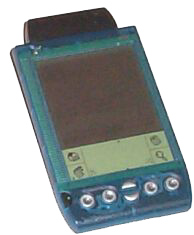 We live in a real-time world, and sometimes you need to get to important information from the Web or an email at all times of the day.  With the Handspring Modem (HSM), you can dial in and access any of your important data at any time.
The 33.6K HSM is the largest Springboard module to date.  It sticks out just under ½" behind the back of the Visor and ¾" above the top of the Visor, significantly adding to the dimensions of the Visor. 

The HSM also comes with a 6' phone cable and 2 AAA batteries that should provide 3 hours of constant use.  One nice feature of the HSM is that it will warn you with 4 beeps if you plug into a digital/PBX phone line to prevent you from damaging the modem.  There is also a button on the modem that initiates a modem HotSync.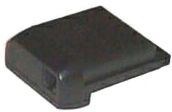 Usability
With a modem Springboard module, the most important things to consider are speed, size, and battery life because any modem will work with online applications such as AvantGo or Proxiweb.  The HSM is a 33.6K modem, which while not a top speed modem like the SixPak, it does have advantage of being available now.  I remember a HotSync with my old Palm III on the 14.4 Palm modem and it taking about 3 minutes, while a HotSync using the HSM took a little under two minutes.  Your time will vary depending on what conduits you synchronize.


User Opinions


| | | | |
| --- | --- | --- | --- |
| | 95% | | 5% |
20 votes registered
Product Details
Name: Handspring Modem
Company: Handspring
Size: 4 1/8" x 2 15/16" x 1 1/16"
Weight:  1.8 oz. w/batt.
Memory: 0K on Visor when inserted
Hard Cover Compatible: No
Price: $129.95





Update: Auction Update / VisorAdventure 2
Thu Oct 11 - 12:05 AM EST

InnoGear PowerCradle (updated)
Tue Oct 9 - 10:51 PM EST

iambic Office suite
Thu Oct 4 - 1:12 AM EST

Prism dropped to $299
Tue Oct 2 - 6:19 PM EST

New Portable Keyboard
Tue Oct 2 - 4:46 PM EST