Bi-Fold Leather case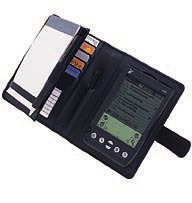 Are you tired of cases that claim you can throw away your wallet and just use a Visor case to carry your important information?  Handspring has made a Bi-Fold leather case that will carry almost all of your personal items that you lug around with you wherever you go.
The Bi-Fold is similar to the Slim Leather case in that both are made of black leather and use a velcro strap to open and close the case.  The Handspring logo is embossed into the lower right-hand corner on the front of the case.  Inside the case, there is room for all kinds of things.  There are slots for five credit cards and a windowed-slot for your driver's license; remove the two extra notepads and you have room for cash in the slot behind the credit cards and your passport in the slot behind the Visor.  There is also a slot for your stylus or a slim pen that could be used with the notepad.  In the picture below, I have the extra pads sticking out so you can see where all of the slots are.
The Visor is held in place by what is essentially a graphite hard cover sewn into the right side of the case.  The Visor snaps in and is held very tightly by this "reverse cover."  Almost all of the Handspring cases use this technique to hold the Visor in place.  It is a really innovative way to hold the Visor in.