SpringPort Modem 56 GlobalACCESS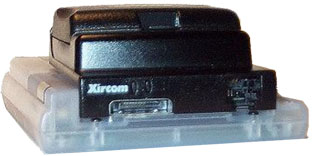 The SpringPort Modem 56 GlobalACCESS is the first in a family of Springboard products to be released by Xircom. It is currently the fastest modem available for the Visor, allowing connections up to 56k, and has fax capabilities, too. Based on its feature set, it is priced comparably to other available modem module options.

Overall, the module is quite large, with its graphite black case measuring approximately 2-9/16" (65mm) long, 2-3/16" (55.5mm) wide, and 1-1/16" (27mm) thick. Approximately 11/16" (17mm) of the module protrudes from the rear of the Visor when inserted. Why, you may ask, the large size? Unfortunately, that's the price you pay for having on-board battery power, in this case 3 AAA's. The battery pack snaps off the back of the module for easy replacement, and the unit supposedly will accept a rechargeable pack from a Motorola StarTac phone (I did not confirm or try this myself).

The module is also quite heavy, weighing 2.9 oz. (82.2 g). The Visor Deluxe weighs in at 5.6 oz. (159 g) (including batteries), making the total package a hefty 8.5 oz. (241 g). That's slightly over a half pound of handheld connectivity appliance! For comparison purposes, the Thinmodem from CardAccess is a standard-sized module (it does not protrude from the Springboard slot) that weighs a mere .6 oz (17 g).

The large size of the module is a handicap in a few situations. First, the overall size and weight of the SpringPort in the Visor make it a bit hard to hold as it significantly changes the shape and balance of the Visor in your hand. Someone with small hands may find the grip uncomfortable. It takes a while to adapt to holding it, yet it's not an impossible task; it just takes some getting used to finding the right balance point. On the plus side, the Visor can be hotsynced in the cradle with the module inserted.

Also, form-fitting cases won't allow the Visor/SpringPort combination… the module is simply too large. I tried the standard leather slipcase that comes with the Visor, the Handspring Plastic Belt Clip Holster, the new Handspring Sport Case, and the E&B Slipper, all to no avail. It is not a very "pocket-friendly" module, either… a bit too bulky to fit comfortably in a pants or shirt pocket. At the office, I found the best option was to remove The SpringPort from the Visor (leaving the phone line attached) and placing it on my desk when going "mobile" out on the production floor. However, leaving a $150 module on your desk requires a fair amount of trust in your co-workers.


User Opinions


| | | | |
| --- | --- | --- | --- |
| | 82% | | 18% |
22 votes registered
Product Details
Name: SpringPort Modem 56 GlobalACCESS
Company: Xircom
Size: 2 9/16" x 2 3/16" x 1 1/16"
Weight: 2.9 oz.
Price: $148.99





Update: Auction Update / VisorAdventure 2
Thu Oct 11 - 12:05 AM EST

InnoGear PowerCradle (updated)
Tue Oct 9 - 10:51 PM EST

iambic Office suite
Thu Oct 4 - 1:12 AM EST

Prism dropped to $299
Tue Oct 2 - 6:19 PM EST

New Portable Keyboard
Tue Oct 2 - 4:46 PM EST