Emergency Charger

They say that you should never discuss politics or religion at the dinner table. In the handheld world, you should never discuss Flash memory or battery types because no one will ever come to an agreement. With the Emergency Charger for the Visor Prism, Tech Center Labs has done its part to silence the naysayers that feel an internal rechargeable battery is dangerous when you travel.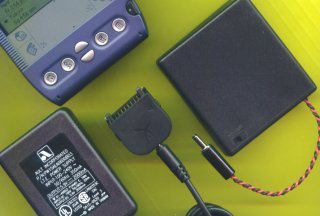 Description
The beauty of the Emergency Charger is its simplicity. There is a spring-loaded HotSync connector that attaches to the Visor Prism. You can then either connect the A/C adapter that came with the Prism or the battery pack to recharge your handheld.
The battery pack that comes with the kit has a short 3-3/4" cable and an on/off switch. Slide off the cover to insert 4 standard AA batteries. There is a small Phillips screw that secures the lid of the battery pack; the Deluxe stylus can be used to attach or remove the screw. The lid will still stay on even if you don't use the screw.
Usability
You won't find something that's much easier to use than the Emergency Charger. Connect the HotSync connector to the bottom of the Visor Prism and then plug either your A/C adapter or the battery pack into the connector. If you're using the battery pack, make sure it is turned on. You can also plug the battery case into the Prism's cradle if you don't have the HotSync connector handy.
That's it! Recharging doesn't take more than a few hours, and of course you can use the Prism while it's recharging. To disconnect the adapter, press in the buttons on either side of the connector and pull to remove it from the Visor.
The HotSync Adapter is $20.00, and the Battery case is $16 separately, or $34.00 for both. Comparatively, The Handspring Travel Charger is $34.99, so for a buck less you get an Emergency Charger that works with either a power outlet or AA batteries. This accessory is now on my short list of things to always carry with my Visor when I travel.
The Emergency Charger is also good for those high-powered Springboard modules that have been coming out. I listened to my MiniJam using some Sony MDR-CD60 headphones that I had while the Prism was connected to the Emergency Charger. After 20 minutes, the Prism still had its battery meter full. If you're using the battery case, make sure you turn it off when not in use.
This is a great product. If you held a gun to my head and told me to say something negative about it, I suppose the battery case is a little heavy when it has batteries inside. I'm not going to care about 4.9 oz though when I'm on a plane with a Prism on empty.