Slimline Twin Point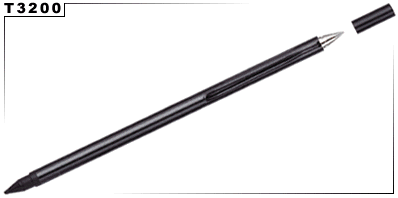 Pilot Pentopia Slimline Twin Point is the stylus for people that want a pen and stylus in one package but do not want to pay the price premium that other dual styli have.† Similar in design to the T3240 Dual-function Stylus, the cap on the Slimline can be removed to reveal a pen.† The cap can be placed on the stylus tip when using the black ink pen, and vice-versa.† Unscrew the pen to replace the ink.† At only $7.95, the Slimline is one of the best values for a dual stylus.
Although the Slimline is not directly designed to fit the Visor, it can be slid inside the silo up to the clip.† Adventuresome users may try removing the clip so they can keep the Slimline inside the Visor silo.† I donít recommend this, because repeatedly doing this could remove the paint on the Slimline.
Usability
The Slimline is writes smoothly like other Pilot pens.† The stylus is a black tip that improves handwriting recognition.† This stylus is best suited for people that have a carrying case that is too small for pen-sized styli but want something a little bigger than the stylus that came with the Visor.† The Slimline weighs more than the stock stylus that comes with the Visor, but unfortunately, the Slimline does not weigh enough.† It weighs only 0.2 oz, while most of the other replacement styli weigh at least twice that much.
To me, the thing that the Slimline lacks the most is appeal.† It is too big to fit in the Visor but too small to be used as a pen except when jotting down a quick note.† It reminds me of the Windows CE clamshells that are too big to fit in your pocket but have keyboards that are too small for extended typing.