Body-suit for Visor Deluxe/Platinum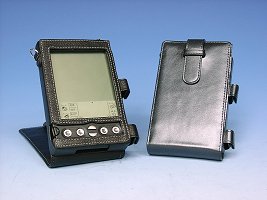 How many devices do I need? Everything I carry with me has a screen, batteries, and buttons. Pager, RIM Wireless Email, Cell phone, Visor Prism, OmniSky Wireless modem, all strapped to my belt like George Clooney as the least appreciated Batman. Until my Visor can perform all these functions in an age of true digital convergence, a bat belt is my best bet.

The Extreme Limit BodySuit for the Visor is a well-made leather flip-style case. There are cutouts for the screen and buttons and they are very thought out for use with the Visor Deluxe. There is a hole on the back that allows you to hit the reset button without removing the Visor from the case. There is also a cutout for the side infrared port. The case also has slots for credit cards and identification, so it can act as a wallet. However, it doesn't have a place for cash.

The case flips open so you can use your Visor while it's in the case, of course. The cover flips all the way back and can be attached with the belt style loop to form a triangle. The case can then be stood up on a desk (see picture) to allow you to refer to your Visor hands-free. You can't Cradle HotSync with the Visor in the case, but the USB/Serial port is partially available via a cutout. You could HotSync with a traveller's cable however.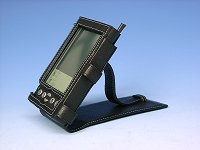 The case also has enough room for some Springboards like the EyeModule. I can keep the EyeModule inserted in the Visor, and the whole assembly still fits in the case. It didn't fit with my Minstrel S Modem inserted however.
Prism Compatibility
This particular case isn't made for the Prism. It has specific holes punched out for easy access to hardware buttons and the power button. Since the Power button is on the right-hand side on the Prism, as well as other differences such as thickness, this case isn't ideal for a Prism. However, according to the folks at Extreme Limit, a Prism version is coming soon.


User Opinions


| | | | |
| --- | --- | --- | --- |
| | 43% | | 57% |
7 votes registered
Product Details
Name: Body-suit for Visor Deluxe/Platinum
Company: Extreme Limit

Price: $45.00 (JYEN 5,350)





Update: Auction Update / VisorAdventure 2
Thu Oct 11 - 12:05 AM EST

InnoGear PowerCradle (updated)
Tue Oct 9 - 10:51 PM EST

iambic Office suite
Thu Oct 4 - 1:12 AM EST

Prism dropped to $299
Tue Oct 2 - 6:19 PM EST

New Portable Keyboard
Tue Oct 2 - 4:46 PM EST