Pocket Recipes

Using the Module

With the exception of a few individuals, I'm sure you didn't buy Pocket Recipes for the desktop application -- you bought it for the module.  The module has all of the features of the desktop application but in a much more "user friendly" format.  Every time you insert the module, a License screen pops up that you must click Ok on to continue.  If you leave the module in your Visor, you will see that this is the PxWelcome app, and you can tap the Recipes app to bypass this screen.

There are six databases that come with Pocket Recipes: Conversions, My PxRecipes (which is empty), Nutrition Info, PxRecipes (2506 recipes), PxShopping List, and Subs & Equivs.  You can enter all of your personal recipes into My PxRrecipes and leave the other databases alone.  These other databases reside on the module, while My PxRrecipes stays in the Visor's memory.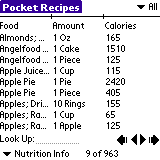 On the screen shown, I am in the Nutritional Info database.  Change categories by tapping on  "All" at the top-right of the screen.  Tap on "Nutritional Info" to switch databases.  The inside arrows move through your records, and the outside arrows jump to the first and last records of the database.  Tap-and-drag the tick marks to adjust the column width.  This database is very helpful for users who want to be prepared when dining out or shopping for the family -- no more guessing about how many calories are in that cereal or cake.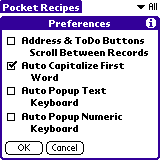 The first thing I do when I get a new module/app is see what preferences there are.  I suggest that you tick the first option so that you can scroll through recipes more quickly.  The other options are for users that don't know Graffiti very well and often use the Visor's on-screen keyboard.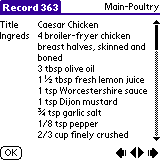 When you tap on a recipe's name you get a nice screen with all the details that you have entered.  Use the up/down buttons to scroll through the recipe.  Nothing fancy, but it gets the job done.  One thing that I believe would be a nice addition to Pocket Recipes is to let users take pictures using the Eyemodule and save them with their recipes.  Many cookbooks have nice mouth-watering pictures -- why not Pocket Recipes?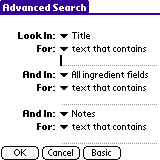 There are several ways to search through a database.  Tap Record | Search Records to bring up the Basic Search screen.  This lets you search using only one parameter.  Tap the Advanced button (pictured) to search using up to three parameters.  After searching the current database, a Search Results screen is displayed that looks just like a normal database.  Tap the Show All Records button to exit the search.
You can also search using the Visor's Find button.  This is the traditional search that looks through all your applications for the specified term.  I don't recommend using this method as it is much slower.