Pocket Recipes
Shopping Lists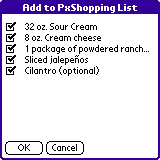 The most appealing feature of Pocket Recipes is its Shopping list.  The shopping list can be used to plan your next trip to the grocery store.  While inside the desired recipe select Record | Add to PxShopping List.  This brings up a confirmation screen where you can check/uncheck the ingredients from the recipe.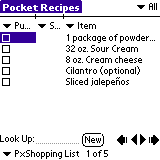 After you have your list ready, change to the PxShopping List database to see your list.  You can also manually enter in list items; this comes in handy for when you're going to buy non-food items.  Then when you're at the store, just check off the items as you put them in your shopping cart.  Note that Pocket Recipes doesn't add items together, so if you have two recipes that require eggs, you'll see two listings for eggs.
The VisorCentral Cookbook
I asked VisorCentral readers to send in their recipes to be included in a special VisorCentral recipe database.  Here is a ZIP file with the fourteen recipes that readers sent in.  I've also included a CSV file for those who don't have Pocket Recipes.

User Opinions


| | | | |
| --- | --- | --- | --- |
| | 50% | | 50% |
4 votes registered
Product Details
Name: Pocket Recipes
Company: Pocket Express
Size: 2.05" x 2.125" x 0.33" (Standard)
Weight:  0.6 oz.
Memory: 6K+ on Visor when inserted
Hard Cover Compatible: Yes
Price: $39.99





Update: Auction Update / VisorAdventure 2
Thu Oct 11 - 12:05 AM EST

InnoGear PowerCradle (updated)
Tue Oct 9 - 10:51 PM EST

iambic Office suite
Thu Oct 4 - 1:12 AM EST

Prism dropped to $299
Tue Oct 2 - 6:19 PM EST

New Portable Keyboard
Tue Oct 2 - 4:46 PM EST