Parafone

Software

When you plug the Parafone into the Visor, two applications are installed. The first is a replacement address book which adds a very helpful features: tap on a phone number in the address book and it will automatically be dialed.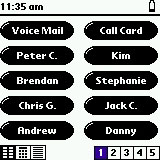 The other application is Parafone's core application "Parafone". Parafone is a fairly robust application, and here you will find everything you need to configure settings, and dial numbers. There are three main screens in Parafone. The first is speed dial, which not only looks exactly the same as the VisorPhone, but in fact it shares the same database, making it a lot easier to use both the Visor Phone and Parafone.
There are two pre-marked buttons, one for Voice Mail, and one for Calling cards.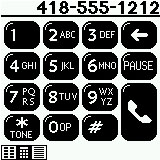 The second main screen is the keypad. You can either dial a number on the large easy to press buttons, and then have it call - like a cell phone, or do "off hook" dialing, which really means you hear the dial tone while pressing the numbers.
I found that when I pre-typed the number in, the call often would not go through, I assume because it would start dialing before it made its connection to the base. Also, the Parafone does not check for a dial tone, before it starts dialing - with many people in the house, and several different phones around, I interrupted conversations or the internet sometimes.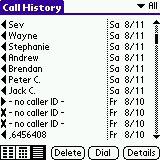 The last main screen of the Parafone app is your call history. The call history is simple yet powerful. It can hold up to 1000 entries, and will record the length, the time and who called, of every incoming, outgoing, and missed call. If you have caller ID the name of the person who called will be displayed. For outgoing calls, if you tapped it out of your speed dial, it will just put the name on the speed dial, or if you dialed normally, it will display the phone number dialed. If you would like to call a number again, you can just tap it and press dial. On an incoming call, with one tap you can either add the phone number and name of the person to speed dial, or your address boo. (Pending that you have caller ID).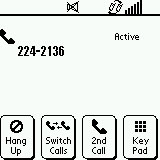 Once you have dialed a number, you will get a screen that will display the number called, and 4 easy big buttons. Hang Up, Switch Call, 2nd Call (for 3 way dialing, very easy!) and a Keypad. Also along the top there are smaller icons, for mute, change channel, and volume level. Press the up and down keys on the visor to change volume.


User Opinions


| | | | |
| --- | --- | --- | --- |
| | 100% | | 0% |
4 votes registered
Product Details
Name: Parafone
Company: Arkon Network
Frequency: 902-928 MHz ISM band
Dimensions: Handset module 94mm×8mm×29mm approx., Base 164mm×130mm×106mm approx.
Operating range: 300 feet (indoor), 1000 feet (outdoor)
Talk time: 3 hours talk / 3.5 days standby time
Price: $119.00





Update: Auction Update / VisorAdventure 2
Thu Oct 11 - 12:05 AM EST

InnoGear PowerCradle (updated)
Tue Oct 9 - 10:51 PM EST

iambic Office suite
Thu Oct 4 - 1:12 AM EST

Prism dropped to $299
Tue Oct 2 - 6:19 PM EST

New Portable Keyboard
Tue Oct 2 - 4:46 PM EST