Visor Pro
Software Features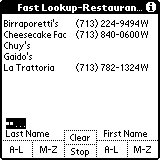 The Visor Pro comes with all of the features of Palm OS 3.5, which includes features like Ir synching and 4-bit grayscale support.  The Fast Lookup feature that was introduced in the Visor Edge is also here.  Fast Lookup allows users to quickly find a contact in the Address Book by using the Visor's hardware buttons.  See the Visor Edge review for full details on how it works.  What would really be nice is an application launcher that uses Fast Lookup; then I wouldn't need to use the stylus so much.  I also wish Handspring would release an update for other Visor models so I can use Fast Lookup on my Visor Prism.

Lies, damn lies...

PocketMark 0.2.1 gives the Pro a 168 rating overall (168/170/163) compared to a 125 rating (129/101/132) for the Visor Deluxe.  Surprisingly, the Visor Pro did more poorly than the Visor Platinum's past score, which was a 199 rating (203/178/201).  To test real-world usage, I had Star Pilot refresh its greyscale night sky view on City magnitude setting with constellation lines turned on.  The Pro took five seconds to finish, while the Visor Platinum took eight seconds.  Under Rural magnitude (where more stars are calculated and drawn), the Pro took 14 seconds and the Visor Platinum took 29 seconds.  So it seems that although the Pro had a poorer PocketMark score, it was significantly better than the Visor Platinum in real-world tests.

The Cradle

The Visor Pro uses a standard USB connector, so the black cradle that comes with it can be used by all members of the Visor family, except for Prism and Edge. Likewise, the Visor Pro will work with the Stowaway and can use a VDX cradle for HotSync. The Pro can also work in a Prism cradle -- the connection feels loose but works -- so a multiple-Visor family does not need multiple cradles unless they have a Visor Edge.


User Opinions


| | | | |
| --- | --- | --- | --- |
| | 61% | | 39% |
23 votes registered
Product Details
Name: Visor Pro
Company: Handspring
Palm OS: 3.5.2H3
Processor: 33 MHz Dragonball VZ
Memory: 16 MB
Colors: Silver
Size: 4.8" x 3.0" x 0.7"
Weight: 5.7 oz.
Price: $299.00





Update: Auction Update / VisorAdventure 2
Thu Oct 11 - 12:05 AM EST

InnoGear PowerCradle (updated)
Tue Oct 9 - 10:51 PM EST

iambic Office suite
Thu Oct 4 - 1:12 AM EST

Prism dropped to $299
Tue Oct 2 - 6:19 PM EST

New Portable Keyboard
Tue Oct 2 - 4:46 PM EST