Matching case - all colors
| | |
| --- | --- |
| Wednesday March 15, 2000 - 5:45 PM EST - By Mike Lee | |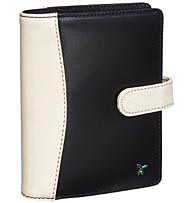 Handspring has a wealth of products to offer the Visor user, aside from the actual handheld computer the company was formed to make. Between the springboards, cases, duffel bags, hats and cradles, everything I have seen with a Handspring logo has been of exceptional quality.
There are two Handspring logos on the case, but they are both discreet and neither make the case a small billboard. One is a small, embroidered, full color Handspring logo in the lower right hand corner and another is stamped into the leather on the inside. This case is very similar to the Sage case I also reviewed. Made in the United States, the Ice case is 100% top-grain black belting leather and is accented with a color that complements your color Visor.

Originally intended to be used with a ice color Visor, my graphite Visor looks good in this case. You can store business cards, phone/credit cards or some cash, as well as an extra stylus in the extra pockets of this case. Don't count on throwing out your wallet though, many cards easily cause the case to widen to its maximum capacity. One of the main attractions to this case is it closes with a snap, as opposed to velcro. The snap falls easily into place and is well designed. The Visor is held in place by a graphite colored cover, sewn into the back of the case. The impact of springboards on Visor cases is yet to be determined.
The case is a bit bigger and more rigid then the Slim Leather Case that I also own. In the weeks that I have been testing the case, it has seemed to soften very little. This is both good and bad. The rigidness provides extra security while its inability to break in causes some awkwardness in use. Overall, only the finest materials were used for this case, and it shows. The case will protect your Visor in most instances, however if the unit happens to land on one of its corners, it may cause some damage because the corners are not fully covered. One bad thing about cases is that they do not completely cover the unit and dust from your pockets can get on the Visor. This is a very minor inconvenience and should not be a deterrent from buying cases like this.


User Opinions


| | | | |
| --- | --- | --- | --- |
| | 69% | | 31% |
13 votes registered
Product Details
Name: Matching case - all colors
Company: Handspring
Size: 5 1/8"x3¼"x1 1/8"
Weight: 2.6 oz.
Ir in Case: No
HotSync in Case: No
Case Type: Fabric/Leather
Held by: Snap In
Price: $29.95





Update: Auction Update / VisorAdventure 2
Thu Oct 11 - 12:05 AM EST

InnoGear PowerCradle (updated)
Tue Oct 9 - 10:51 PM EST

iambic Office suite
Thu Oct 4 - 1:12 AM EST

Prism dropped to $299
Tue Oct 2 - 6:19 PM EST

New Portable Keyboard
Tue Oct 2 - 4:46 PM EST