IntelliGolf
Usability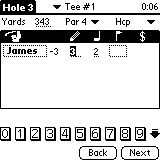 I would have loved to have taken IntelliGolf out on the course with my buddies, but alas, that was not meant to be!  Instead, I did the next best thing, and played a round of Mario Golf for the Nintendo 64 while scoring with IntelliGolf.  Not as much excercise, but a good test of the module's abilities nonetheless.  When entering your score for each hole, the minimum information you enter is the number of strokes and the number of putts.  Tap on the box below the flag to enter additional information, such as if you hit out of a sand trap or received any penalty strokes.  On the main scoring screen, no Graffiti writing is necessary unless it took more than 9 strokes to sink the ball (in which case you're probably should spend your money on lessons instead of IntelliGolf).  Tap the Next/Back buttons to move among the holes.  While this method allows you to enter your scores fairly quickly, it could still be simplified further if you could tap an up/down button to increase the number of strokes as you wer moving through the hole instead of waiting till the end of the hole.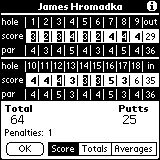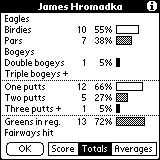 When you're done playing, you can tap your name to view your scorecard and statistics; from that, you can find out how well you played and what you could improve upon.  As you can see in the screenshot, the scorecard highlights your birdies and lists your number of putts.  At the bottom of the scorecard are tabs to show your Totals and Averages.  The Totals screen shows how many eagles, birdies, etc. you shot, how well you putted, and a few other statistics with their percentages. There are also bar graphs so you can quickly see at a glance what you need to improve upon.  My Mario Golf game could stand to see some better putting.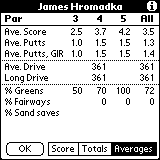 The Averages screen shows your averages, so you can see if you shoot better on par 3's or par 5's.  If you entered distance information you can get your averages here as well.
All of the information can also be entered into the IntelliGolf desktop software.  Here you can view any of the statistics from the module as well as your historical record.  Whenever you HotSync, the data from your Visor gets transfered to the deskop, and you can decide whether to keep the info on the Visor or not so you can save space.  You can manually enter new course data into the desktop software or download courses from IntelliGolf's website.


User Opinions


| | | | |
| --- | --- | --- | --- |
| | 80% | | 20% |
5 votes registered
Product Details
Name: IntelliGolf
Company: Karrier Communications
Size: 2.05" x 2.125" x 0.33" (Standard)
Weight:  0.2 oz.
Memory: 3K+ on Visor when inserted
Hard Cover Compatible: Yes
Price: $39.95





Update: Auction Update / VisorAdventure 2
Thu Oct 11 - 12:05 AM EST

InnoGear PowerCradle (updated)
Tue Oct 9 - 10:51 PM EST

iambic Office suite
Thu Oct 4 - 1:12 AM EST

Prism dropped to $299
Tue Oct 2 - 6:19 PM EST

New Portable Keyboard
Tue Oct 2 - 4:46 PM EST