Pocket Express Entertainment Pack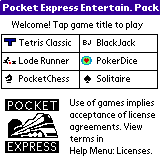 The story is almost too good to be true! Eight games on a Springboard, plug it in and go! Finally I can use my Visor like a GameBoy. But, dig deeper and you find that it's not as cool as you think. First, it's not really 8 games, but rather 6 plus solitaire. The module is $39, and total about 300k, but you can buy the software on disk and install them yourself for $29.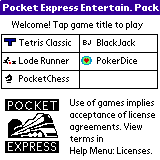 The installation is Springboard easy. Just plug the pack in, and you are greeted with a games application launcher.  One interesting note, since I already had Solitaire Free Color on my Visor, I saw a different screen. Why the launcher just couldn't launch my internal copy, I don't know, but removing it from the menu seems to be a weird solution. All the games work on any Visor, and if the particular game supports color it will run in color. The one weird exception is Solitaire Free, where two icons show up on black and white Visors, and you have to try each until you find the black-and-white version.
Removing the Springboard removes the icons for the games, which runs directly from the Springboard itself. Only the applications preferences and settings are kept in the Visor's memory. If you have a 2meg Visor, this memory saving feature could be important to you.

User Opinions


| | | | |
| --- | --- | --- | --- |
| | 50% | | 50% |
10 votes registered
Product Details
Name: Pocket Express Entertainment Pack
Company: Pocket Express

Price: $39.99





Update: Auction Update / VisorAdventure 2
Thu Oct 11 - 12:05 AM EST

InnoGear PowerCradle (updated)
Tue Oct 9 - 10:51 PM EST

iambic Office suite
Thu Oct 4 - 1:12 AM EST

Prism dropped to $299
Tue Oct 2 - 6:19 PM EST

New Portable Keyboard
Tue Oct 2 - 4:46 PM EST