VisorPhone

Handspring Visor users want it all.  They want as many features as possible crammed into their Springboard modules.  More and more, we're seeing Springboard modules that have more than one function.  With the Handspring VisorPhone, one can 1) dial numbers directly from their address book, 2) use it as a GSM cellular phone, 3) send messages to others using SMS, and 4) dial into an ISP and browse the Internet.  What more could you want?

Hardware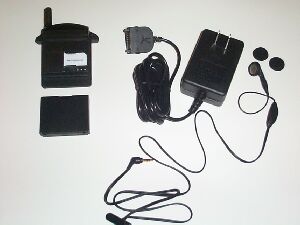 The VisorPhone uses the GSM Standard for the U.S. and operates at 1900 MHz.  The back of the module detaches so you can insert your SIM card that your service carrier provides you with.  One of the major benefits of GSM is that you can take a SIM card (or smart card) from one phone, plug it into another GSM-capable phone, and use it right away.
A speaker lets you hold the Visor to your ear and use the VisorPhone like any normal phone; by plugging the included headset into the headphone jack on the left side of the module you can access all of your Visor's applications while still using the VisorPhone.  There is also a silent alarm that you can set to vibrate instead of using one of the 12 audio alarms available.
The VisorPhone has quick-access buttons for its SMS and Phone applications, a slider to switch between loud and soft rings, and an power button.  An LED indicates the VisorPhone's status:
No light = Phone off
Solid red = Battery charging
Solid green = Fully charged
Slow red blink = No service
Slow green blink = In service
Fast red blink = Low Battery
Fast green blink = Data call active
The VisorPhone uses a rechargeable Lithium Ion battery pack that provides up to 3 hours of talk time or 3 days of standby time.  An included A/C adapter connects to the serial port of your Visor to recharge the VisorPhone's battery.  This adapter will  recharge a Visor Prism as well.  The VisorPhone will also recharge when in the Visor Prism's cable, and you can still receive phone calls.


User Opinions


| | | | |
| --- | --- | --- | --- |
| | 76% | | 24% |
41 votes registered
Product Details
Name: VisorPhone
Company: Handspring
Size: 2.4" x 2" x 0.6"
Weight: 2.9 oz.
Memory: 96 K on Visor when inserted
Hard Cover Compatible: No
SAR: 0.48 W/kg (head), 0.22 W/kg (body)
Price: $299.00 (w/ service contract), $499.00 (w/ no contract)





Update: Auction Update / VisorAdventure 2
Thu Oct 11 - 12:05 AM EST

InnoGear PowerCradle (updated)
Tue Oct 9 - 10:51 PM EST

iambic Office suite
Thu Oct 4 - 1:12 AM EST

Prism dropped to $299
Tue Oct 2 - 6:19 PM EST

New Portable Keyboard
Tue Oct 2 - 4:46 PM EST