MatchBookDrive and FAFileMover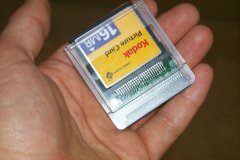 To me, Visors are the Wild West, or the expanse of unexplored space. They represent the great unknown, the road less traveled. Handspring said, here's a slot, we call it a Springboard. Whatever crazy ideas you can come up with, you all just go and make it happen.

Ya, sure the iPAQ has more memory and you can watch streaming DVDs or whatever in your hand, but the promise of a well-thought-out expansion slot is a wonder to behold. "Can your Palm do that?" they say. Now, with a 48meg CompactFlash card installed in my color Prism, I say, oh yeah, I can do that.

Compact Flash (CF) cards are fast becoming the standard for low-priced, conveniently-sized digital storage. I use a 16meg CF Card and a 48meg CF card to move data between my Kodak Digital Camera, my Laptop's PCMCIA Slot (via a PCMCIA to CF adapter) and my Windows CE IBM z50 sub notebook. I've been really impressed with the flexibility of these cards as I've moved them from device to device without a problem. Many PocketPCs have CF Card slots built in, and we Visor owners lamented that we couldn't use this great form of storage.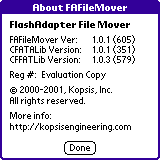 For a while we watched as many Visor enthusiasts built their own Flash Adapter modules from nothing more than a $7 PCMCIA to Compact Flash adapter and two soldered wires. But, the software support wasn't there. Also, the CF Card stuck out of some of the adapters so far it was precarious. I'd rather pay a few bucks to someone to make me an adapter than risk embarrassing myself in a sea of solder anyway.
Some folks have purchased the Handspring 8 MEG Flash card to solve storage problems. But, I've got all this CF RAM lying around, why can't I use it? I've got at least 10megs of Palm Games, and I don't want to use 400K in RAM or a Flash Card when I only play Mahjongg once a week. So, what's the solution?


User Opinions


| | | | |
| --- | --- | --- | --- |
| | 90% | | 10% |
30 votes registered




Update: Auction Update / VisorAdventure 2
Thu Oct 11 - 12:05 AM EST

InnoGear PowerCradle (updated)
Tue Oct 9 - 10:51 PM EST

iambic Office suite
Thu Oct 4 - 1:12 AM EST

Prism dropped to $299
Tue Oct 2 - 6:19 PM EST

New Portable Keyboard
Tue Oct 2 - 4:46 PM EST