SmartCover
| | |
| --- | --- |
| Tuesday February 13, 2001 - 3:09 PM EST - By Alan Graham | |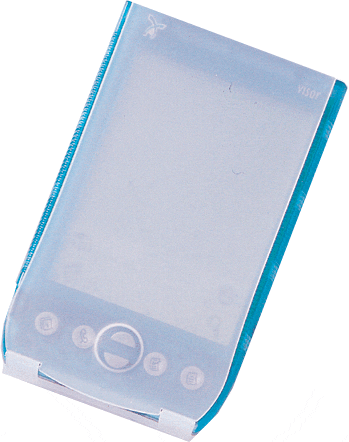 I just cannot figure out for whom this product was designed. As I view the world there are two types of Visor users -- your run of the mill grocery list users, and the fanatic "Visor as an Appendage" users. Since I fall into the latter half, I knew at first site the InnoPocket SmartCover would simply not do for me.

Usability

The SmartCover is a semitransparent plastic flip cover that attaches itself to the bottom of the Visor, just like the plastic cover your Visor ships with (using those two little nubs).

It curves around the back to the SpringBoard slot on top where it also secures itself. At the top there is a hinged cover which swings easily around the front of the Visor to protect the screen.

It has a nice, fluid Star Trek Communicator flip to it and it attaches and removes easily from the Visor (2-3 seconds). The finish is frosted and matches the Visor nicely. The problem with the SmartCover, however, is that it really isn't that smart. For one thing, the cover protecting the screen isn't flush with the case, leaving it exposed to elements, such as liquids. The cover the Visor ships with has a much better seal and is free.

The one thing I found particularly annoying is that you must remember to remove your stylus before you flip back the cover or you can't get to it at all (a nice feature if it did that when closed). It would seem like this is no big deal, but as I am of the "open case, remove stylus" mentality, retraining myself has been about as successful as training any man to put down a toilet seat.

The SmartCover completely blocks access to the Springboard slot, and as I am a multiple module user, I found having to remove the cover completely, and store it, a pain. One final note, it would have been a nice feature to have a hole available to reset the Visor, but there is none.




User Opinions


| | | | |
| --- | --- | --- | --- |
| | 27% | | 73% |
11 votes registered
Product Details
Name: SmartCover
Company: InnoPocket
Ir in Case: Yes
HotSync in Case: No
Case Type: Plastic
Price: $29.95





Update: Auction Update / VisorAdventure 2
Thu Oct 11 - 12:05 AM EST

InnoGear PowerCradle (updated)
Tue Oct 9 - 10:51 PM EST

iambic Office suite
Thu Oct 4 - 1:12 AM EST

Prism dropped to $299
Tue Oct 2 - 6:19 PM EST

New Portable Keyboard
Tue Oct 2 - 4:46 PM EST