Smile! Bluetooth is Coming
Bluetooth is Coming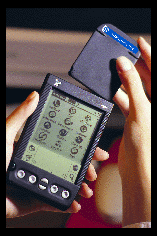 Information is starting to come out now about the Bluetooth springboard from Widcomm called the Blue-Connect™. The Blue-Connect module enables wireless connectivity with other Bluetooth-enabled devices. Like other springboards, the Blue-Connect is completely Plug-N-Play. Widcomm will also have a Blue-Share™ product that allows the Visor to connect to the desktop over Bluetooth.
Below is a list of the Blue-Connect module specifications from Widcomm's website:
Add-on module enabling wireless connectivity with other Bluetooth-enabled devices
Conforms to the Springboard interface present on the Visor PDA
Plug and Play with no prior configuration required on the Visor device
Bluetooth 1.0 specification compliant software and firmware
The Blue-Connect module comes loaded with all the software drivers required to use a Visor device running the Palm OS
Optional software applications (e.g. e-mail, web access) can be included in the Enabler module Flash ROM
Bluetooth profiles implemented: Dial-up Networking, Serial Port Profile, Synchronization Profile
Power drawn from Visor battery pack - Current : Peak : 60 mA; typical : 40 mA
Below are some of the ways that the Blue-Conect module can be used:
"Beaming" an application over from Visor to Visor
"Beaming" an address-book entry from Visor to Visor
Visor to desktop/notebook using the Blue-Connect and the Blue-Share (address book, schedule, to do list) synchronization
Visor to cell phones (address book, schedule synchronization)
Using the Visor as a user interface while using a cell phone as an untethered modem
Visor to Digital Camera (image transfer)
According to a press release that Widcomm has with Acer, the Blue-Connect will cost less than $100 and will be available in Q2 2000. The possibilities of Bluetooth will be endless. Widcomm will also release an API so companies can write Bluetooth-aware applications.



Related Links
No links at this time






Update: Auction Update / VisorAdventure 2
Thu Oct 11 - 12:05 AM EST

InnoGear PowerCradle (updated)
Tue Oct 9 - 10:51 PM EST

iambic Office suite
Thu Oct 4 - 1:12 AM EST

Prism dropped to $299
Tue Oct 2 - 6:19 PM EST

New Portable Keyboard
Tue Oct 2 - 4:46 PM EST






VisorCentral Awards 2001 - Day 11
Mon Oct 8 - 8:29 PM EST

Mr. Hromadka goes to Redmond
Mon Sep 10 - 4:39 AM EST

WordSmith 2.0 Preview
Tue Jul 10 - 9:06 PM EST

Open Desktop
Sat Jul 7 - 11:56 PM EST

VisorVision Explained
Mon Jul 2 - 12:10 AM EST

PC Expo Video Streams
Fri Jun 29 - 5:18 PM EST