Innogear Q&A
Innogear
One of the companies that VisorCentral readers are the most interested in is InnoGear. With the InfoMitt pager, the MiniJam, and the highly anticipated SixPak scheduled to be released this year, InnoGear has the unique opportunity to "put a Springboard module in every Visor." I recently had the chance to conduct an email interview with Bob Fullerton, president of InnoGear. You can see him in the picture on the right sitting next to Robin Han, InnoGearís Chief Technology Officer. You can also see the MiniJam in his hand. Below is our interview.
---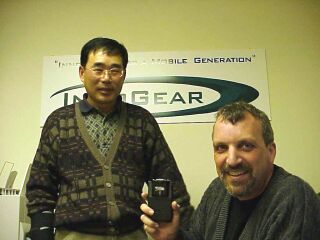 VC: I noticed on your website that InnoGear invented the GoType keyboard for Landware. Are there any other products that InnoGear has contributed to besides your upcoming springboards?

Fullerton: Actually I was working on a few new products and patents just prior to getting involved with Springboard Modules. Now that we have grown our development team here at InnoGear, and we are near completion of our first three Springboard offerings, we plan to get those older projects off the backburner. We canít say what they are yet, so as they say "stay tuned!" We also are working on a few custom OEM designs, so you will see some "InnoGear design and technology" sold by other companies later this year.

VC: With the huge demand that the Handspring Visor has experienced, is InnoGear prepared for the demand that users are going to have for its products?

Fullerton: Manufacturing product efficiently in Asia is something that we do very well. We have multiple sources in Korea, China, and Taiwan. These are relationships that go back well over a decade, and we consider these companies more "partners" than "vendors". Now as far as support here in the U.S., we are in a high growth mode right now and moving to a larger facility, hiring industry professionals, and setting up the support structure for web sales, order taking, customer support and technical support. Anything that we canít do "in-house" is easily outsourced.

VC: Based on the demand that was on VisorCentralís discussion area, InnoGear has made the InfoMitt and MiniJam modules work even when not inserted into the Visor. How will this be achieved?

Fullerton: We are planning an accessory later this year that will power the InfoMitt or the MiniJam when it is not installed in the Springboard slot. Presently, we are focused on getting the Springboard modules to the marketplace, so the battery box will come later as an accessory item.

VC: Now that 2000 is here, can you be more precise as to when your three springboards will be coming out?

Fullerton: We would rather under commit and over deliver rather than nail down actual dates right now. Our modules are likely to be summer releases as of right now. All computer and electronic OEMS are experiencing limited supplies and long delays of certain, even common components due to worldwide shortages of these devices. The cell phone industry consumed a huge number of components last year. We are in a process of procuring and expediting all components right now or, if we find a real problem part, we are re-qualifying new components. We are not taking the demand for our products lightly; We have people in Asia right now "living" at the factory getting these products to production status while we prepare the sales and support organization here at InnoGear.