Presenter-to-Go Preview
Presenter-to-Go

Margi Systems has announced the Presenter-to-Go(tm) Springboard module for the Handspring Visor.  Presenter-to-Go allows Visor users to connect directly to a digital projector and display high resolution presentations that have been downloaded to their Visor.  Now Visor owners can really show off the power of the Springboard slot by ditching the laptop when it's time for those major presentations.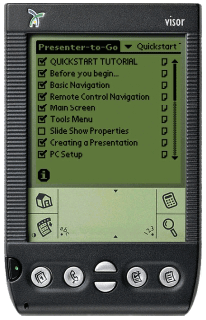 Included with the Presenter-to-Go module is the following:
CD-ROM with a PC plug-in for PowerPoint and other PC applications
12" VGA Adapter cable with a power port
14-button Infrared remote control
AC Adapter
Mini-adapter for direct connection to projectors

Presenter-to-Go works with all Visor models using Windows 98/98SE/Me and can be connected to any 1024x768 monitor, display, or projector that uses a standard VGA input.  The Presenter-to-Go module has 2 MB of memory and can hold up to 100 slides.  The Visor's memory can also be used for additional storage.
The PC software allows you to export data from any Windows application  into a slide.  You can also use multiple applications in creating your presentation.  For example, you may use a table from Excel on one slide and a PowerPoint screen on another.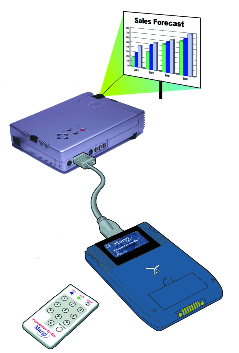 Once you HotSync the presentation to your Visor, connect the Presenter-to-Go module to the projector and plug in the AC adapter.  Use the remote control or the software on the Visor to control the presentation.  That's it!  Now you can use any monitor for giving a quick presentation from your Visor.  The Presenter-to-Go software also has features that you would expect from any presentation software:
-Selectively hide/show slides
-Drag-and-drop slide sorting
-View slide notes
-Automatic/Manual slide show
-Store multiple presentations
-Remote advance, reverse, auto
-Remote direct slide select
-Remote return to last slide
Presenter-to-Go is $299 and is now available.  Make sure you give yourself extra time to show off this module, as it will turn a lot of heads at that next meeting.  The Presenter-to-Go module is yet another way that the Visor is changing the way that people look at handheld computers.